politics
Trump FBI Pick Throws Support Behind Mueller's Russia Probe
By and
Russia inquiry isn't a 'witch hunt,' Wray tells Senate panel

Senators signal bipartisan backing for Wray to lead FBI
The federal investigation of Russia's role in the 2016 election that Donald Trump frequently dismisses as a "witch hunt" got a key endorsement Wednesday, from the president's own pick to lead the FBI.
Former Justice Department official Christopher Wray told senators at his confirmation hearing that special counsel Robert Mueller, the head of the probe that's now touching the president's oldest son and son-in-law, is a "consummate straight shooter." Pressed to directly address Trump's criticisms, Wray added, "I do not consider Director Mueller to be on a witch hunt."

Wray's answers won him bipartisan support to lead the Federal Bureau of Investigation. His vows to pursue investigations regardless of political pressure, while standard, took on added significance as lawmakers digested news that Donald Trump Jr. and Jared Kushner met with a Russian lawyer during last year's campaign, contradicting repeated administration denials about election-year meetings with Russians.
"I will never allow the FBI's work to be driven by anything other than the facts, the law, and the impartial pursuit of justice. Period. Full stop," Wray, 50, told members of the Senate Judiciary Committee.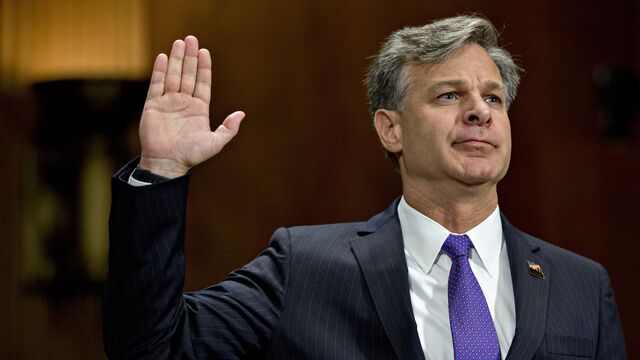 The committee took up Wray's nomination in the wake of Trump's abrupt firing of James Comey in May. Comey said his firing came after Trump repeatedly asked for his loyalty and suggested the FBI drop an investigation into Michael Flynn, the president's first national security adviser.
No Loyalty Oath
Under questioning from Vermont Democrat Patrick Leahy, Wray said "No one asked me for any kind of loyalty oath at any point during this process, and I sure as heck didn't offer one."
While Mueller, a former FBI director, leads the probe into whether Trump or any of his associates colluded with Russia to meddle in last year's election, Wray would oversee the FBI agents aiding in that effort.
Pressed on what he would do if Trump asked him to do something he viewed as unlawful, Wray responded, "First I would try and talk him out of it and if that failed, I would resign."
That's what senators were waiting to hear.
"It's vitally important for the FBI Director to be independent," Republican committee Chairman Chuck Grassley of Iowa said in his opening remarks. Speaking of Wray, Grassley said, "He's prosecuted folks on both sides of the political spectrum, including folks working on a Republican campaign."
'Very Sternly'
Senator Dianne Feinstein of California, the committee's top Democrat, asked Wray if he would inform the Intelligence Committee of any "machinations to tamper" with Mueller's investigation. He said any effort to to interfere would "be unacceptable and inappropriate and would need to be dealt with very sternly."
Feinstein later said she would vote to approve the nominee. At the White House, spokeswoman Sarah Sanders said "the president looks forward to see this incredibly qualified nominee" move through the committee and on to the Senate floor for confirmation.
During his testimony, Wray said he didn't discuss Comey's firing with anyone in the White House but did talk about it with Deputy Attorney General Rod Rosenstein, who said that the appointment of Mueller as special counsel "in effect made for a better landscape for me to consider taking this situation."
The hearing took place as Washington continued to process the news that Donald Trump Jr., Kushner and former Trump campaign chairman Paul Manafort met before the election with a woman they had been told was a Russian government lawyer who would provide damaging information on Hillary Clinton.
Read More About How Trump's Credibility Was Dealt a Blow by His Son's Emails
The revelations, which followed Donald Trump Jr.'s decision to publish emails related to the meeting after inquiries and reports about it in the New York Times, conflicted with previous administration statements that campaign officials didn't meet with Russian officials and raised fresh questions about whether any Trump associates colluded with Moscow.
Wray, who said he's been busy preparing for the hearings, said he wasn't familiar with the emails made public a day earlier. But Republican Senator Lindsey Graham cited the development as "an example of where all things Russia continue to haunt the Trump administration."
"This is proof positive that the Trump campaign was willing to work with the Russians," Graham said. "I think it's wrong for any campaign to receive assistance from a foreign government because if we go down that road we're going to destroy our democracy."
And Graham pressed Wray to say that any political campaign contacted by people promising help from a foreign government should suspect something illegal is taking place. The FBI nominee obliged.
"Any threat or effort to interfere with our elections from any nation state or non-state actor is the kind of thing the FBI would want to know," Wray said.
Wray has a history of taking on politically tough assignments. A former Justice Department official who helped the U.S. respond to the Sept. 11 attacks, Wray represented Credit Suisse Group AG before its main unit pleaded guilty in 2014 and paid $2.6 billion for helping thousands of Americans evade taxes. He also represented New Jersey Governor Chris Christie in the so-called Bridgegate investigation of politically motivated traffic delays in 2013.
Enron, HealthSouth
The Yale Law School graduate also helped lead the Justice Department's efforts to address a wave of corporate fraud scandals, overseeing the prosecutions of Enron Corp. and HealthSouth Corp., among other major investigations.
But Wray's tenure at the Justice Department also became an issue at his hearing. Senators asked what role he played in controversial counterterrorism programs put in place by President George W. Bush's administration after the Sept. 11 attacks, including waterboarding.
Wray testified that "torture is wrong, it's unacceptable, it's illegal and I think it's ineffective."
— With assistance by Jennifer Jacobs
(
Updates to add White House comment in 11th paragraph.
)
Before it's here, it's on the Bloomberg Terminal.
LEARN MORE