World's Biggest Gamblers in Backlash Against TV Betting Ad
By and
Australia clamps down on daytime gambling ads to protect kids

Reform threatens value of major sports broadcasting rights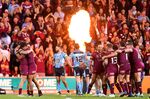 As Australians on Wednesday night watched one of the year's biggest sporting events, the interstate rugby league finale, television ads repeatedly implored them to have a bet.
For years, coverage swamped by betting promotions has made match day in Australia almost synonymous with a wager. But now a sports-mad nation that racks up gambling losses of A$23 billion ($17.7 billion) a year -- more per person than any country -- is growing a conscience. Aussies are seeking to weaken the combined force of sports, broadcasters and betting companies -- for their kids' sake.
With about a quarter of young Australians estimated to be gambling on sport, the government is pushing through a ban on betting ads during daytime live matches. Lawmakers are also debating a bill, expected to pass next month, that aims to crack down on offshore gambling websites that offer bets on games already in progress.
"In people's minds, and especially children, the concept of sports and gambling have become so intertwined that they can't think about one without the other," said David Rowe, a professor at Western Sydney University who specializes in sports, culture and media. "That's what people regard as really dangerous."
As the U.K.'s top soccer body ends all betting sponsorship, Australia's government faces a conundrum: how to nurture major sports while shielding children from gambling. Efforts to stem the flood of marketing threaten the value of A$4.9 billion of media rights for rugby league, Australian rules football and cricket alone. The rights were sold to networks including Seven West Media Ltd., Nine Entertainment Co. and Rupert Murdoch-backed pay-TV service Foxtel.

As many as 500,000 people in Australia either have a gambling problem or risk developing one, the government estimates. And in an era of smartphones and social media, adolescents are particularly at risk, according to the Victorian Responsible Gambling Foundation.
Teenagers are four times more likely to develop gambling problems than adults, the foundation said in a March report citing a range of studies. It included a survey of 2012's interstate rugby league contest -- known as State of Origin -- where types of gambling promotions, including on billboards and uniforms, appeared an average 111 times during its free-to-air coverage.
"I hear parents' concerns that their kids can name the odds on every game and talk about that rather than who's playing well," said Australian Human Services Minister Alan Tudge, whose department is overseeing the Interactive Gaming Amendment Bill. Online gambling "has all the growth and is where the problems of the future will arise unless we start to get control of it now."
Such problems have been more than 200 years in the making. Gambling was already entrenched in Australia before the colony's first official horse-race in Sydney in 1810. One of the earliest forms saw convicts and military officers bet on a coin toss in a game now called "two-up" that's still played today.
Today's gambling advertisements, such as those by Sportsbet, often attempt to capture the nation's working-class and blokey past, showing cheeky young men trying to escape their female partners to drink beer or watch a match. Sportsbet also signed up Olympic drug cheat Ben Johnson to promote its mobile-phone service, before pulling the ad following criticism.

Bet365 has appealed to more urbane, tech-savvy millennials, using Hollywood star Samuel L. Jackson to add glamor to its ads. On Australian broadcasts of games, local former sports stars cite the latest betting odds during pre-match discussions, always adding: "And please, gamble responsibly."
Restrictions likely to be implemented in March will ban gambling ads during matches before 8:30 p.m., as well as in the five minutes before and after them. That didn't apply to Wednesday night's third and deciding clash between New South Wales and Queensland states, which at least 16 percent of Aussies were expected to watch.
Even before last night's match started, six ads for Ladbrokes had appeared. One commercial break was book-ended with Sportsbet promotions, while appeals to gamble from CrownBet rounded out the game's coverage.
Australia's major sporting codes blame the television networks and betting operators for swamping the airwaves with gambling ads, which Victorian Responsible Gambling's report said were valued at A$236 million in 2015.
"They overcooked the pudding," said Malcolm Speed, executive director of the Melbourne-based Coalition of Major Professional and Participation Sports. "While it's a very clearly defined demographic they aim at, the general sporting public finds the advertising overbearing and annoying.''
Nine didn't reply to requests for comment, while Ten Network Holdings Ltd. and Seven referred questions to Free TV Australia, which represents free-to-air broadcasters. Free TV didn't return a call and email seeking comment. The television networks and Foxtel have said they support the gambling ad restrictions as part of a package of broader reforms.
Still Up
All the same, it's not clear the ad restrictions will be effective because they don't constitute a blanket ban, and many children are awake past 8:30 p.m.
"At the end of the day, if the ads are shown, kids will see them," said Andrew Hughes, a lecturer in marketing at the Australian National University in Canberra. "The advertising is very clever and effective -- it downplays the harm, and gives young people a sense of belonging to a club."
The public debate has laid bare a network connecting some of Australia's richest men and major businesses to the sporting codes and their betting partners.
Billionaire James Packer, the largest shareholder in casino operator Crown Resorts Ltd., part owns rugby league club South Sydney Rabbitohs with actor Russell Crowe. Crown Resorts also sponsors the club, while its betting unit is the official gambling partner of rival code the Australian Football League. Cricket's national governing body, Cricket Australia, lists 20 approved sports-betting partners on its website.
Caring Bookies
And the bookies show up on both sides of the debate. Even as they're teaming up with the sporting codes, lobby groups such as Responsible Wagering Australia -- whose members include Sportsbet, Ladbrokes and Bet365 -- say they're pushing for better ways to protect the public.
"Our members acknowledge that there is concern in the community about the level of wagering advertising," said Stephen Conroy, a former government minister who's now executive director at Responsible Wagering Australia. "That's why we have been at the forefront of calling for a reduction in the volume of wagering advertising."
Christopher Hunt, a clinical psychologist at the University of Sydney who specializes in treating gambling addictions, says he witnesses the fallout. He's concerned about the number of young men he sees suffering from sports-betting problems.
"They went from being rare to being one of our more common client groups," said Hunt. "We're at the vanguard of this problem."
Before it's here, it's on the Bloomberg Terminal.
LEARN MORE