White House Calls on Chinese to Allow Liu Xiaobo Medical Travel
By
Nobeal laureate, rights advocate has late-stage liver cancer

Trump administration urges access to foreign medical care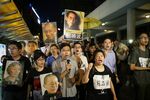 The Trump administration called on the Chinese government to allow ailing rights advocate Liu Xiaobo to seek cancer treatment outside of China and to release his wife from house arrest.
"We remain concerned that both Mr. Liu and his family are unable to communicate with the outside world and that he is not free to seek the medical treatment of his choosing," White House spokeswoman Sarah Huckabee Sanders said, reading from a prepared statement on the Nobel laureate during a briefing on Wednesday. "We continue to call on the Chinese authorities to grant him full parole and to release his wife from house arrest and provide them the protections and freedoms such as freedom of movement and access to appropriate medical care."
It is the second time in recent weeks the administration has put public pressure on the Chinese to ease restrictions on Liu. U.S. Ambassador to China Terry Branstad, a former Iowa governor, told reporters June 28 in Beijing that he hoped the two sides could work together to allow Liu access to foreign medical care. The 61-year-old Nobel Peace Prize winner has been released from prison and is being treated for late-stage liver cancer at a university hospital in northeastern Liaoning province.
Liu's plight poses an early challenge for Branstad amid signs that the honeymoon between U.S. President Donald Trump and Chinese counterpart Xi Jinping is fading. Liu was sentenced to 11 years in prison in 2009 for inciting subversion of state power after co-authoring "Charter 08," a pro-democracy manifesto urging the end of one-party rule. He became China's most famous political prisoner after he was represented by an empty chair during the Nobel Peace Prize award ceremony in 2010.
Before it's here, it's on the Bloomberg Terminal.
LEARN MORE