politics
Wall Street Cheers as Brazil Judge Cripples Lula's Comeback
By , , and
Former leader sentenced to 9.5 years on corruption charges

Brazilian real jumps to highest level in nearly two months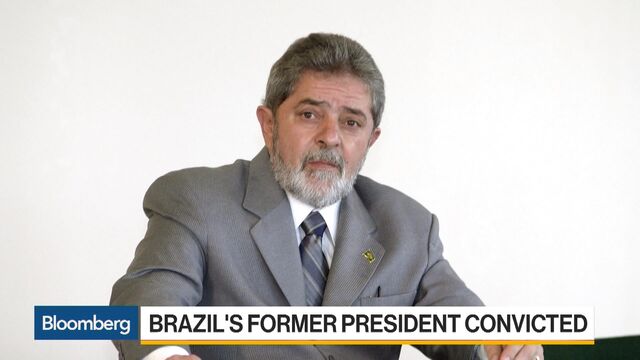 Traders couldn't be happier with the latest casualty in Brazil's largest-ever corruption probe -- former President Luiz Inacio Lula da Silva.
That's because the chances for the populist leader to stage a comeback in next year's presidential race are drastically reduced after the lead judge in the so-called Carwash investigation sentenced him to nine and a half years in prison. Investors expected Lula to oppose reforms put forward by market-friendly President Michel Temer, such as the pension overhaul.
Lula, 71, one of the most popular leaders in Brazilian history who served as president from 2003 to 2011, was convicted of bribe-taking and money-laundering. He had led most polls of voter intentions for 2018. A Datafolha survey last month showed him with 30 percent support -- more than twice that of his closest competitor.
Brazil's real gained 1.4 percent to 3.2087 per dollar as of 4:20 p.m. in New York on Wednesday, the highest level since May 17. The country's benchmark stock gauge rallied the most in two weeks. The risk premium on Brazilian sovereign bonds dropped 3 basis points to 273 basis points, according to JPMorgan Chase & Co. indexes.
"If the pension reform is not approved, Brazil's debt trajectory will rapidly explode," said Gustavo Rangel, ING's chief economist for Latin America, who forecasts the Brazilian real between 3.2 and 3.3 per dollar until the end of the year, but going below 3 if pension reform is approved. "Lula seemed to be against it, so he would bring a very elevated fiscal risk if elected."

Here's what Wall Street had to say about how traders are reacting to the news of da Silva's sentence:
Shamaila Khan, director of emerging markets at AllianceBernstein, who is overweight Brazilian local rates and real-denominated notes:

"I expect a positive reaction. Lula is a negative tail risk for 2018 elections. This reduces the probability of Lula running for the 2018 elections leading to a higher probability of more market-friendly candidates."
She favors candidates from more established parties such as PSDB and PMDB, which would imply continuity of the reform agenda beyond 2018.

Daniel Senecal, credit analyst at Newfleet Asset Management in Hartford, Connecticut, which manages $12 billion, who is overweight Brazil with a preference towards local currency notes and bonds from state oil company Petroleo Brasileiro:

"It is a positive if it removes him from the 2018 election picture. This allows the Brazil election process to move more cleanly away from the recent past and I think leaves the left without a strong personality to run in the election."

Neil Shearing, chief emerging markets economist at Capital Economics, wrote in a note:

The ruling "all but rules him out of the running for next year's presidential election and is likely to give a near-term boost to Brazilian markets."

Fernando Mazzanti, a currency trader at INTL FCStone in New York:

"BRL should remain lower over the next days, but the positive reaction to Lula's news may be short lived as external factors are likely to keep pressuring the currency. The currency may gain below 3.20 per dollar and even test the 3.15 level over the next days, but will likely return to the 3.20 to 3.25 range seen recently."

Alberto Bernal, chief strategist at XP Securities:

"The chances of Lula making it in 2018 just fell massively and the markets really do not want to see Lula in power again."
(
Updates prices in fourth paragraph.
)
Before it's here, it's on the Bloomberg Terminal.
LEARN MORE