politics
Political Calm Key to World Bank as Ukraine Pushes Reforms
By and
Country head says lender ready to help economic overhauls

Kahkonen sees GDP growth slowing to half potential in 2017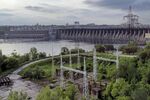 Ukraine must build on a period of relative political calm in which it's succeeded in reforming parts of its ex-Soviet economy and returning it to growth, according to the World Bank.
To win further aid, the government must push ahead with revamps of land sales, the pension system and health care, said Satu Kahkonen, the lender's director for Ukraine, Belarus and Moldova. The bank, which has invested more than $10 billion in the country, stands ready to help implement Ukraine's plans, she said.
Prime Minister Volodymyr Hroisman's team arrived in a 2016 reshuffle following the resignation of several reformist officials angry that graft wasn't being tackled. Since then, the cabinet has won plaudits for overhauling the energy and banking industries, even as a three-year conflict with Russian-backed insurgents persists. But the ruling coalition only has a slim majority in parliament and a $17.5 billion bailout loan has suffered repeated delays.
"We are very pleased with the progress that the government has made in the past year -- they have taken a lot of very important reforms and moved the country forward," Kahkonen said. "We hope that political stability would continue so further reforms can be taken and the position of Ukraine can be solidified."

The latest setback to Ukraine's loan from the International Monetary Fund was confirmed last week. Hroisman said in an interview that the fifth tranche of the program, amounting to $1.9 billion, won't arrive until at least autumn, rather than the summer as originally planned.
"One lesson that we have learned from our prior engagement is that it is important to be flexible," Kahkonen said. "If those big policy reforms move, we would step in to support their implementation with investments."
Overhauls of the retirement system and the sale of agricultural land are currently a focus of the government. Parliament may vote on Thursday on a proposal to raise the qualifying period of employment for state-pension eligibility by 10 years. While the reform wouldn't change existing retirement ages of 58 for women and 60 for men, legislation passed in 2011 would bring the two into line.
'Fiscal Risk'
The present system, whose deficit stands at $5.5 billion, is "a major fiscal risk, a risk for social sustainability and social peace at the moment, given that 70 percent of pensioners require minimum subsistence support," Kahkonen said. She also urged the government to lift a moratorium on agricultural land sales in January, a step that's aimed at boosting farming, saying the World Bank may consider some financing projects such as irrigation.
That could jumpstart a flagging economic, which has lost steam because of a trade embargo with the rebel-held east. While gross domestic product resumed its expansion last year, growth remains "very modest" and will probably slow to 2 percent in 2017, about half the economy's potential, Kahkonen said.
(
Updates with land reform comment in penultimate paragraph.
)
Before it's here, it's on the Bloomberg Terminal.
LEARN MORE