Trump Defends Son for Accepting Meeting With Russian Lawyer
By
President tells Reuters 'many people would have' taken meeting

Trump says he talked with Putin about election interference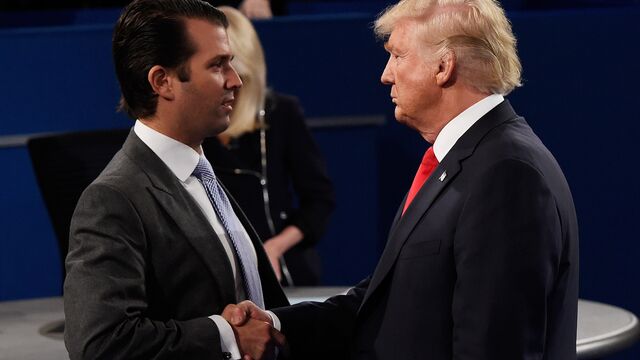 President Donald Trump is defending his eldest son's meeting with a Russian lawyer last year that was billed as offering damaging information on Democrat Hillary Clinton, purportedly from the Russian government.
"I think many people would have held that meeting," Trump said in an interview with Reuters published Wednesday evening.
Donald Trump Jr.'s disclosure Tuesday of email exchanges to arrange the meeting, which took place just after his father had secured the Republican presidential nomination, dealt a blow to the administration's credibility by contradicting months of denials that anyone from the campaign had contact with Russians.
The emails showed that Donald Trump Jr. was willing and eager for help from the Russian government in collecting information about Clinton in order to help his father win.
In the Reuters interview, Trump said he had no knowledge of the meeting at the time and only learned about it recently.
"No, that I didn't know until a couple of days ago when I heard about this," Trump said according to Reuters.
The revelation of the meeting -- which included Trump son-in-law Jared Kushner and then-campaign manager Paul Manafort -- and Trump Jr.'s subsequent release of the emails provides a new focal point for investigations by congressional committees and special counsel Robert Mueller into whether Trump's campaign colluded with Russian election interference. 
'Witch Hunt'
The president has called the investigation a "witch hunt" and questioned the conclusion of U.S. intelligence agencies that Russia was behind the hacking and release of Democratic Party emails during the campaign.
Trump and his allies have sought to portray the meeting with Russian lawyer Natalia Veselnitskaya, set up by a business associate with ties in Russia, as nothing out of the ordinary and part of opposition research typical of presidential campaigns.
In an interview with Fox News Tuesday, Trump Jr. said in retrospect, he probably would have done things a little differently, but at the time he saw the meeting with the Russian lawyer as a chance to collect some vital information on what he referred to as under-reported scandals that could hurt his father's opponent.
He said the meeting yielding no such information. "I wouldn't have even remembered it until you started scouring through this stuff," he said. "It was literally just a wasted 20 minutes, which was a shame."
Not Routine
But several election law lawyers and Republican campaign operatives said this week there is nothing routine about foreigners meeting with a campaign on such matters -- and in particular with top campaign officials. A presidential campaign usually has a separate team for opposition research, as well as a chain of command to prevent mistakes like this.
"A foreign source, or someone with a questionable background, approaching a campaign with a proposal would ideally receive a caution flag if those vetting and chain of command protocols are in place," Kevin Madden, a former spokesman for Republican Mitt Romney's 2012 presidential campaign, said.
Trump's nominee to lead the FBI, former federal prosecutor Christopher Wray, told senators at his confirmation hearing before the Judiciary Committee on Wednesday that anyone facing circumstances like those that confronted Donald Trump Jr. should contact the FBI.
Asked Putin
The emails the younger Trump posted on Twitter, after the meeting was reported by the New York Times, were exchanges with British publicist Rob Goldstone, who set up the meeting on behalf of a client he said was working with the Russian government. Goldstone said the information the lawyer had was "obviously very high level and sensitive information but is part of Russia and its government's support for" Trump's White House bid. It is not clear from the emails that Trump posted why Goldstone thought the information came from the Kremlin.
Trump has had no public events since the New York Times first reported on the meeting between Donald Trump Jr. and Veselnitskaya.
In the interview, Trump said he talked to Russian President Vladimir Putin about Russian meddling in the U.S. election when he met with him last week at the G-20 summit. 
"I said, 'Did you do it?' And he said, 'No, I did not. Absolutely not.' I then asked him a second time in a totally different way. He said, 'Absolutely not,'" Trump said.
Before it's here, it's on the Bloomberg Terminal.
LEARN MORE