business
Shkreli Vowed to Beat Retrophin Upon Ouster From Drugmaker
By and
Retrophin's ex-chairman testifies at Shkreli's fraud trial

Jurors told how Shkreli exploded on learning of dismissal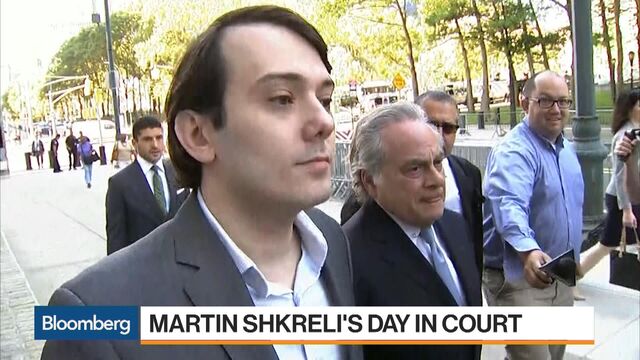 Martin Shkreli vowed he wouldn't be stopped after being ousted as chief executive officer of Retrophin Inc. and declared he'd make a comeback and outdo the pharmaceutical company he founded.
"I'll beat you guys to a new company and will get to a billion dollars before you will," Steven Richardson, Retrophin's former chairman, said Shkreli told him upon hearing the news that he was being removed from the post in 2014.
Richardson, 63, described for jurors at Shkreli's fraud trial in Brooklyn, New York the reasons for Shkreli's ouster. Shkreli secretly ran what amounted to a hedge fund within Retrophin, allowing employees to trade stocks using shareholders' money, Richardson said. Shkreli also issued stock grants to new employees, traded company stock during restricted time periods and ignored the board of directors' pleas to act like a more traditional chief executive, the former chairman said.
Richardson, who developed a friendship with Shkreli and said the younger man viewed him as a "mentor," described a tense meeting he had with Shkreli in late September 2014, after the company's board of directors decided to appoint Steve Aselage the new CEO. He also told Shkreli the board wanted him to stay with the company.
"He listened to the discussion and I said, 'It's best you just go home and we can talk tomorrow,"' Richardson said. Shkreli told him he'd start a new company instead.
"Rather upset at my inane BOD who was overly focused on irrelevant innuendo but also now can pursue a NewCo without them," Shkreli wrote on Twitter Sept. 30. "So net-net excited." Since then, Shkreli's been banned from Twitter for harassing a female journalist.
Shkreli's Trial Reporters' Notebook
Shkreli followed his stint at Retrophin by starting Turing Pharmaceuticals AG. As that company's chief executive, he gained international notoriety for raising the price of a potentially life-saving drug by 5,000 percent, and was hauled before Congress where he refused to testify. Shkreli resigned from Turing after his arrest on securities fraud charges in 2015.
Shkreli, 34, is on trial accused of operating Retrophin and his hedge fund as Ponzi schemes. Prosecutors say after his fund imploded in 2011, Shkreli took investors money without their permission to launch Retrophin, and later used $11 million from the drug company to repay the investors in the hedge funds.
Richardson is the latest investor to testify, telling the jury he was one of the first people to put money in Shkreli's hedge fund. Later, he became one of Retrophin's biggest shareholders.
Unlike earlier government witnesses, who said they badgered Shkreli to return their money, Richardson was one of his biggest champions, asking Shkreli to roll over his hedge fund investment into Retrophin.
Relationship Frayed
Their relationship frayed after the company began trading on Nasdaq in January 2014, he said. New board members were demanding better corporate governance, Richardson said.
Shkreli ignored demands to stop Retrophin employees from trading with investors' money and lied when he was asked about it, Richardson said.
That set the stage for the final showdown, Richardson said. 
"We wanted to remove him from the CEO role because of the governance breaches," he said.
Shkreli fought back, reaching out to Retrophin investors with his own version of events, which led to a flurry of calls to the company from people looking for an explanation, Richardson said. Shkreli also sneaked back into the offices and started taking files and accessing computers, until Retrophin blocked him, Richardson said.
Then "he started taking a more aggressive stance, saying 'You can't terminate me' and he became more volatile and said, 'I'm not resigning,'" Richardson said.
The case is U.S. v. Shkreli, 15-cr-0637, U.S. District Court, Eastern District of New York (Brooklyn).
(
Updates with Shkreli's refusal to leave company in last paragraph.
)
Before it's here, it's on the Bloomberg Terminal.
LEARN MORE