business
Potash Plan Prompts $98-Million Road Link in Horn of Africa
By
Djibouti contracted Kuwaiti company to build route to Ethiopia

Landlocked nation begins fertilizer component output in 2018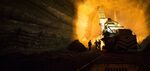 Djibouti contracted a Kuwaiti company to build a $98-million road link to enable landlocked Ethiopia to ship its first potash output from a new Red Sea port, officials said.
Kuwait City-based Mohammed Abdulmohsin Al-Kharafi & Sons Co. is constructing the 128-kilometer (79.5-mile) road connecting the harbor to the border, while Ethiopia plans to provide an 11-kilometer stretch on its side, according to Aboubaker Omar Hadi, the chairman of Djibouti's ports authority. The Chinese-built Tadjourah port will serve cargo ships as well as bulk carrier vessels for potash companies in northern Ethiopia, with the road to be completed in time for the start of production next year, Hadi said by phone.

Djibouti will charge potash exporters about $7.50 per metric ton handled by the new port, which has capacity for as much as 5 million tons of the fertilizer component a year, Hadi said. Ethiopia plans to export an annual 74,000 tons of the mineral by 2019, according to its five-year industrial plan.
The project points to Djibouti's rising importance to both regional and world powers. Sited where the Indian Ocean meets the Red Sea and home to six operational ports, the tiny African nation will be the location of the Chinese army's first overseas base and hosts U.S. and French forces. Ethiopia, which the International Monetary Fund calls the continent's fastest-growing economy, is trying to boost its export-oriented manufacturing, making it reliant on neighboring nations with ports.
Kuwaiti Loans
The Djibouti road, which will replace a partial, asphalt thoroughfare, is being funded with loans from the Kuwait Fund for Arab Economic Development, Finance Minister Ilyas Dawaleh said by phone from Djibouti City, the capital. Ethiopia's industrial plan says it will grant exploration and production licenses for minerals including potash to about 120 companies, including 20 international ones. Hadi said the Tadjourah port's design and water depth was changed two years ago at Ethiopia's request.
Djibouti's parliament in January ratified a law for supplementary funding for the road, with lawmakers criticizing the "inexplicable slowness" of Al-Kharafi, which has faced heavy criticism from the country's people, Djibouti's official newspaper, La Nation, reported. Abdulmohsin Jassim al-Kharafi, the Kuwaiti company's general manager, didn't respond to two emails seeking comment. Ethiopian deputy government spokesman Zadig Abraha didn't answer two phones calls and two text messages.
An IMF report published April put the road's cost at $80 million, financed by public debt. President Ismail Omar Guelleh's government took a 23-million Kuwaiti dinar ($75.8-million) loan from the Kuwaiti lender for development projects and to "respond to the demand for transit" to Ethiopia's northern region, according to legislation put into effect in February. That added to a $49.5-million loan secured from the bank in 2014 for the same goal, maturing in 15 years.
The road is being developed instead of a rail link to the port, the Djibouti portion of which would cost an estimated $1.2 billion, Hadi and Dawaleh said.
(
Updates with prior plan for rail link in final paragraph.
)
Before it's here, it's on the Bloomberg Terminal.
LEARN MORE