PBOC Newspaper Outlines Steps Needed for Yuan Market Reform
Bloomberg News
Moves include widening trading band, reducing intervention

Currency has stayed within trading range since August 2015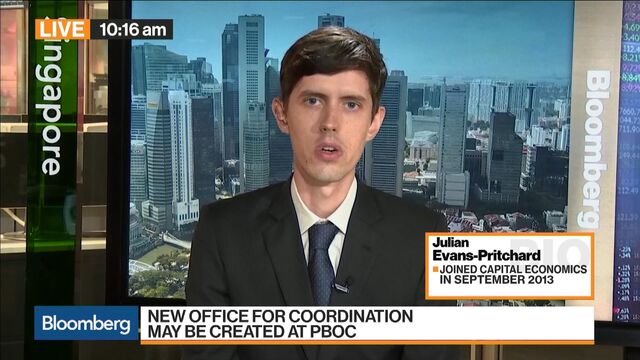 A newspaper run by China's central bank laid out the steps needed for further reforms of its foreign-exchange market, including widening the yuan's trading band and reducing state intervention.
In an article titled "Exchange Rate Continues Toward Stability at Equilibrium Level," the Financial News said an improved currency market requires more players, additional trading tools and diversified transaction methods. The front-page story, which cited expert opinion, is part of a series of reports that are typically seen before the Communist Party's congress held every five years.
Since China's currency was added to the International Monetary Fund's reserves basket last year, little progress has been made to liberalize the currency. Tweaks to the daily fixing have made the reference rate less transparent, while the central bank has been speculated to intervene on a number of occasions to slow losses. The authorities have also taken steps such as tightening capital controls and offshore yuan liquidity in order to stem depreciation pressures.
Since the currency devaluation in August 2015, "the yuan has rarely traded more than 0.5 percent away from the reference price," said Ken Peng, Asia-Pacific investment strategist at Citi Private Bank in Hong Kong. "Widening the band now doesn't seem to be the most effective way to increase market determination. Reducing the degree of 'management' around the reference price would be a very meaningful move, but that would be counter-intuitive given that the PBOC just introduced the counter-cyclical factor, which is basically more flexibility to manage the exchange rate."
China currently allows the yuan to move a maximum 2 percent on either side of the daily reference rate set by the PBOC. The range was last widened in March 2014 from 1 percent, and before that doubled from 0.5 percent in April 2012. The limit was 0.3 percent before an adjustment in May 2007.
The onshore yuan climbed 0.19 percent, the most this month, to 6.7880 per dollar as of 4:48 p.m. in Shanghai, while the PBOC strengthened its fixing by 0.17 percent to 6.7868 on Wednesday. That makes the spot price 0.02 percent weaker than the reference rate. The offshore currency gained 0.12 percent to 6.7924.
"The current 2 percent trading band provides sufficient flexibility for the yuan to move on a daily basis," said Khoon Goh, head of Asia research in Singapore at Australia & New Zealand Banking Group Ltd. "To widen the band further does not really do much, as the authorities will always guard against large intraday movements in the currency."
— With assistance by Yinan Zhao, Tian Chen, and Li Liu
Before it's here, it's on the Bloomberg Terminal.
LEARN MORE