Merkel and Macron Sweeten EU Path for Volatile West Balkans
By and
Leaders discuss aid plan, economic area in Trieste, Italy

EU states coax region of 20 million as Russia seeks influence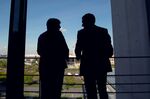 The leaders of some of the European Union's biggest economies, including Germany's Angela Merkel, offered incentives to the states in the western Balkans to move closer to joining the world's largest trading bloc and stabilize the continent's most volatile region.
Merkel met French President Emmanuel Macron, Italian Prime Minister Paolo Gentiloni and the leaders of Serbia, Bosnia-Herzegovina, the Republic of Macedonia, Montenegro, Kosovo and Albania at a summit in Trieste, Italy on Wednesday. The leaders were set to endorse the idea of creating a regional economic area and discuss 220 million euros ($252 million) in aid for infrastructure projects, European Enlargement Commissioner Johannes Hahn said. He didn't provide details.
"We have a shared task in ensuring that these countries develop properly and can draw closer to the European Union,step by step," Merkel told reporters. "Political stability in this region also means political stability for us -- we know that."
Almost two decades following Europe's bloodiest conflict since World War II, most of the fragments of the former Yugoslavia are struggling to integrate with the EU and join in a wave of prosperity that has raised living standards in most of the former communist east. Now Germany and other EU members are trying to coax the region of 20 million people into embracing the bloc's economic and democratic values as Cold War adversary Russia also seeks to strengthen its influence on Europe's southern fringe.
Geopolitical Misunderstandings
So far, Slovenia and Croatia are the only former western Balkan states to join both the EU and NATO, while Montenegro and Albania are also members of the military alliance. Serbia, the largest former Yugoslav republic, aims to be ready to join the EU by the end of the decade. But it must still normalize ties with its former province Kosovo, whose 2008 independence it has refused to recognize.
Serbia and its neighbors also face challenges overhauling their economies, strengthening rule of law, and meeting other standards that the EU requires of its members. Thorny relations between the region's Slavic and Albanian ethnic groups have also been a source of tension, with leaders often accusing each other of mistreating minorities and asserting claims for territory outside their borders.
Serbia is open to economic cooperation, but it doesn't see the creation of a regional economic area as a substitute for EU membership, EU Integration Minister Jadranka Joksimovic said. She added that "political willingness" among the region's countries would be the biggest potential obstacle to making the economic union work.
"There are various issues of tension that create difficulties, in international trade and also misunderstandings from a geopolitical point of view," Italian Prime Minister Paolo Gentiloni said. "A cohesive European Union would contribute to stability and peace, specially in the region we are talking today."
Economic Pledge
If they can achieve membership, the 28-member trading club offers to boost the economies of countries that have watched their former communist neighbors prosper. Living standards measured in output per capita and adjusted for prices range from 30 percent of the EU average in Albania to 42 percent in Montenegro. In Slovenia, which joined in 2004 with seven other former eastern-bloc states, that figure is 83 percent.
Still, the pledge of infrastructure aid "isn't a lot, especially if it's going to be over a longer period of time," Vladimir Gligorov, senior economist at the Vienna Institute for International Economic Studies, said by phone. "It's been known for years what roads and rail links are needed to improve communication in the Balkans, but most projects have made little progress since the wars ended" in 1999.
— With assistance by Misha Savic, and Tony Czuczka
Before it's here, it's on the Bloomberg Terminal.
LEARN MORE