climate-changed
Even the Man Who Tried to Turn NRG Green Backs Elliott
By and
Largest independent power producer considering selling yieldco

NRG to focus on margins of wholesale and retail businesses
David Crane spent five years trying to convince Wall Street that he needed to turn the coal-burning, natural gas-dependent power generator NRG Energy Inc. into a clean-energy company.
The crusade ultimately cost him his job. In late 2015, after NRG's debt had swelled to $20 billion, Crane was fired as chief executive officer of the nation's largest independent power producer. His rooftop solar business was shelved. And in case it wasn't clear enough where investors stood on the "green" image he was building: NRG, facing pressure from billionaire Paul Singer's Elliott Management Corp., said Wednesday that it would seek a buyer for the unit Crane created primarily to run solar and wind farms as part of a plan to divest as much as $4 billion of assets.

In a testament to how unattractive investors have found NRG's green ambitions, even Crane thinks the idea of selling the renewables business is for the best. At this point, he said, it's clear: Wall Street has no interest in a company that mixes fossil fuels with clean energy.
"Nobody really cared about the green business," he said in an interview Wednesday. After a sale, NRG won't have "a single pillar of green left in them" and the renewables business will be better off because it's "big enough to stand on its own," he said.
To be sure, Mauricio Gutierrez, Crane's replacement at NRG, stressed during a call Wednesday that the company may keep a 50 percent stake in the renewables unit NRG Yield Inc., and fell short of saying he'd end clean energy investments. NRG's head of sustainability, Bruno Sarda, said in a statement that the company remains committed to "sustainability strategy and goals, including our ambitious climate targets."
Meanwhile, Wall Street has already moved past the image of NRG tearing off the green label and is now talking takeover bids for the so-called yieldco, a publicly traded company that owns operating wind and solar farms.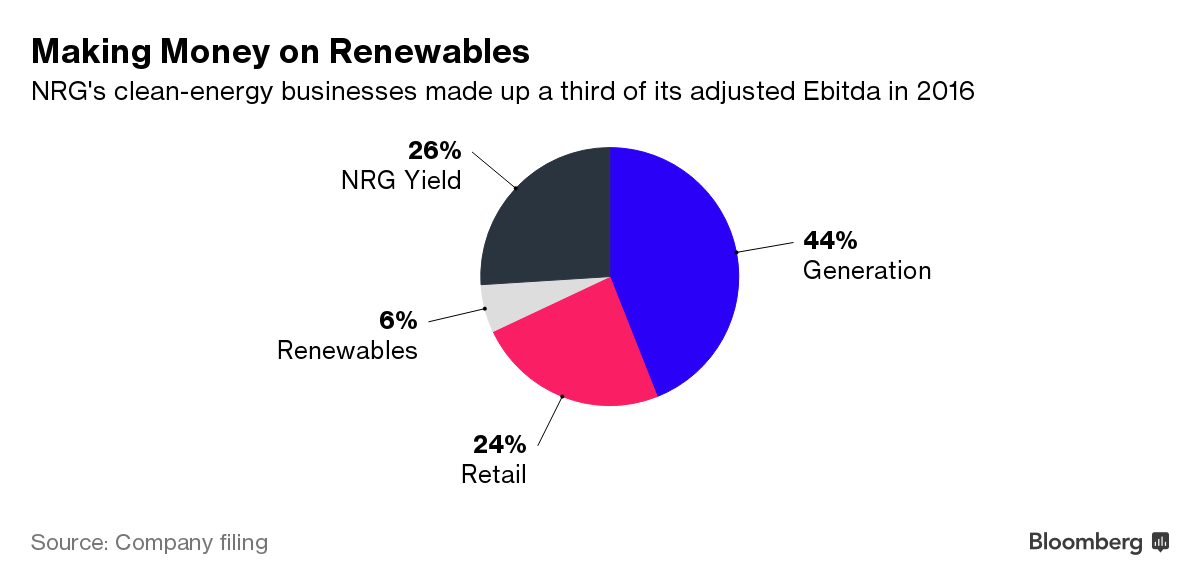 Units of NRG Yield on Wednesday shot up the most in almost three weeks. NRG itself jumped by the most ever. There are plenty of yieldcos up for sale right now, but there's also a growing pool of eager investors, particularly climate-minded pension funds and insurance companies, so hungry for steady revenues from wind and solar farms that their demand for such companies may exceed assets on the market.
"The whole yieldco market could be up for sale, and the market could be capable of absorbing it all," Michael Morosi, a Nashville-based renewables consultant and former analyst at Avondale Partners, said in an interview Wednesday. NRG Yield's "asset quality and the profile of the assets themselves are as competitive as any."
To learn more about this large and deepening pool of buyers for yieldcos, read this story.
"There are potential suitors," said Garvin Jabusch, chief investment officer of Green Alpha Advisors in Boulder, Colorado. "We have never held NRG, because we see fossil-fuel generation owners as poor long-term holdings. We only hold pure-play renewables names, carefully selected from firms that exhibit solid fundamentals and good growth for price."
What comes of NRG Energy itself remains to be seen. During the call Wednesday, one analyst asked Gutierrez how the power generator will deliver returns without clean-energy investments to back them up.
Wholesale, Retail
He outlined a plan that would have the company focused on integrating its wholesale power generation business and retail services and widening profit margins between them. Aside from making power, NRG is the largest retail electricity seller in Texas and runs similar businesses in the U.S. Northeast.
"What's core is perfecting that integrated platform of generation and retail," Gutierrez said.
Gutierrez's comments mark a significant shift from less than eight months ago, when NRG completed its largest-ever acquisition of clean-energy assets, buying 1.5 gigawatts of wind and solar projects from the bankrupt clean-energy giant SunEdison Inc.
To learn more about yieldcos and why they've drawn scrutiny, read this QuickTake Q&A.
Last year, NRG opened new headquarters in Princeton, New Jersey, decked out with solar panels and electric car-charging stations. The new digs weren't merely "ultra-green," as the company said at the time. They symbolized NRG's clean energy vision, which included goals to cut carbon emissions in half by 2030 and 90 percent by 2050.
After going through with the plan laid out Wednesday, NRG "would have to enter into a Trumpian-Orwellian world of double speak if they would continue to market themselves as a being a green company -- because they're not," said Crane, who now works for private equity firm Pegasus Capital Advisors. "The emperor has no clothes."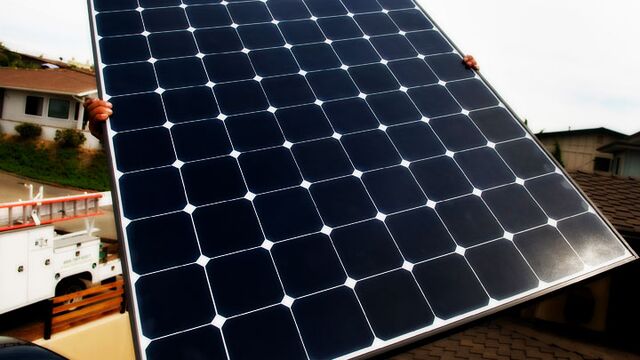 If there was any single development that contributed most to the ultimate death of that green image, it was Elliott taking an activist stake in the company with turnaround titan C. John Wilder's Bluescape Energy Partners. The two pressed NRG in February to begin the business review that ultimately led to the company's decision to seek buyers for the yieldco.
"Wilder is a conventional-generation guy," said Stacy Nemeroff, a utilities analyst for Bloomberg Intelligence. He and Elliott "aren't that interested in the green-diversification story." Bluescape and Elliott didn't immediately respond to requests for comment.
Crane said Wednesday that the big flaw in his plan to turn NRG green was that the company was essentially cut off from clean-energy institutional investors that couldn't invest in a generator that made most of its money off coal plants.
"It has much more opportunity for success outside NRG than inside," he said.
— With assistance by Jim Polson, and Emily Chasan
(
Adds analyst comment in the 8th paragraph.
)
Before it's here, it's on the Bloomberg Terminal.
LEARN MORE