politics
Christie, Edging Toward His Next Act, Banks on Bully Image
By
N.J. governor taking, heaping abuse in try-out for radio gig

Once a Republican darling, he's souring on his current job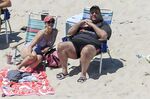 The backlash still fresh after he lounged on a closed public beach during New Jersey's government shutdown, Chris Christie may be taking career inspiration from his buddy Donald Trump.
Trump went from reality television to the White House, but Christie is trying to use public office to get a place on the airwaves. Following his two-day audition this week on New York sports radio station WFAN, the buzz is about saucy sound bites, chief among them "fat ass" (one caller's assessment of the governor's beach bod) and "communists from Montclair" (Christie's retort).
If he's hired to replace the retiring Mike Francesa, Christie would gain more than an outlet to hold forth on his beloved New York Mets baseball franchise and his friendship with Jerry Jones, owner of the Dallas Cowboys football team. The Republican soon-to-be-former governor would have more than four hours a day to heap abuse on callers, potentially rebuilding a fan base that found his unvarnished style refreshing.
"It's a plan to keep himself front and center in the public spotlight, because that's all you need to do to keep those embers glowing for those presidential ambitions," Patrick Murray, director of the Monmouth University Polling Institute, said of Christie.
New Jersey, meanwhile, remains mired in the financial morass that Christie pledged to turn around when he took office almost eight years ago. Democratic lawmakers denied him a follow-up to his first-term pension changes. Last week, they blocked him from seizing $300 million of a private health insurer's surplus on his mission to combat opioid abuse.
Cowboys Fan
Those losses have taken a toll: Christie has publicly acknowledged that he's not so interested in governing for the remainder of his six months in office. "The later you get in your term, the less you care," Christie told WFAN co-host Evan Roberts on Monday. "You're not running for re-election."
Christie, who's poked fun at his own weight and blunt manner on "Saturday Night Live" and Jimmy Fallon's "Tonight Show," is a natural on sports radio, where callers can spend hours debating a single controversial referee decision while pushing the limits of federal broadcast rules. In his first term, he cultivated a tough-guy image by calling one critic "a jerk," another a "numb-nuts," and by engaging a heckler on the New Jersey boardwalk while brandishing an ice-cream cone.
Montclair Communists
The WFAN caller who sparred with Christie this week is Mike Goldstein, known to regular listeners as Mike from Montclair.
"Next time you want to sit on a beach that is closed to the entire world except you, you put your fat ass in a car and go to one that's open to all your constituents, not just you and yours," he told the governor.
Christie shot back, calling Goldstein "a bum," adding, "I love getting calls from communists in Montclair."
In an interview, Goldstein said Christie's radio demeanor pushed him over the edge.
"I was nauseated by his tone, sarcastic and insulting with the callers, and it inflamed me to the point that when it was my turn I decided to go on the offensive," said Goldstein, whose daughter, Freddi Goldstein, is a spokeswoman for New York's Democratic Mayor, Bill de Blasio.
Goldstein said Christie's public personality is a combination of "vile behavior for which he's suffered no consequences" and "a cultivated macho bravado."
In April, amid the firing of Fox News host Bill O'Reilly, Christie was mentioned as a possible replacement.
"Clearly, he's a media personality," MSNBC host Joe Scarborough said of Christie at the time.
Traffic Jam
But Christie's record popularity after Hurricane Sandy in 2012 receded as the restoration dragged on for years. His 2016 presidential run ended amid public exasperation over the George Washington Bridge scandal that led to guilty pleas or federal convictions of three Republican allies. David Wildstein -- who masterminded the plot, helped prosecutors unravel it and testified at trial against the two who were convicted -- was sentenced Wednesday to three years probation.
Though Christie has insisted he had nothing to do with the plot to exact political revenge with staged traffic jams, polls show most voters didn't believe him.
Read More: Bridgegate Mastermind Avoids Prison
Time is running out on Christie's public push to become a political force on treatment, rather than criminal punishment, for nonviolent substance abusers. He's now loathed in the home state where he pledged to remain after his failed White House run, even as Trump considered him for administration roles.
Eighty percent of voters disapprove of the job Christie's doing, and just 15 percent approve, according to Monmouth Poll results issued July 10. Six percent, when asked about Christie's lolling on the closed beach on July 2, "used some sort of profanity to express their sentiments," the poll found. Printable words included "disgusted," "despicable," "hypocrite" and "privileged;" the saltiest bits are on the poll's website.
Numb Nuts
Such visceral reactions are crucial to high ratings and market share for WFAN, owned and operated by CBS Radio. The station broadcasts live game commentary on the New York Giants, New Jersey Devils, Brooklyn Nets and New York Yankees. The talk format has kept some listeners, such as Christie heckler Mike from Montclair, phoning in for decades, their names as recognizable to regulars as the hosts'.
While Christie was on the air Tuesday, his office released a letter stating that he wouldn't issue an executive order to pay workers furloughed during the three-day government shutdown.
Before taking the microphone, Christie did attend to one other bit of state business. He issued a press release praising a U.S. House of Representatives appropriations bill that includes $900 million for Gateway, the proposed $24 billion Amtrak project that includes a new commuter-rail tunnel between New Jersey and New York.
The governor in 2010 canceled construction of a tunnel that would have ended riders' reliance on New York's Pennsylvania Station, citing concerns about its costs and design. In recent years, New Jersey Transit commuters have grown increasingly frustrated with having to pay more for inadequate seating and unreliable service.
That earlier tunnel would be close to finished by now, as pointed out by Assemblyman John McKeon, a Democrat from West Orange.
"Christie's selfish political ambitions are the reason we're not six months from a third tunnel, instead of 10 years away," McKeon said in a statement. "The temerity to try and take a bow for funding that's far from a certainty, thanks to President Trump, is an outrage, but not a surprise."
— With assistance by Henry Goldman
(
Adds Christie ally avoids prison for Bridgegate in 16th paragraph.
)
Before it's here, it's on the Bloomberg Terminal.
LEARN MORE