Brexit Talks May Collapse Amid Government Divisions, Cable Says
By and
Prospective U.K. Lib Dem leader says Tories 'dysfunctional'

Criticizes divisions among ministers and lack of planning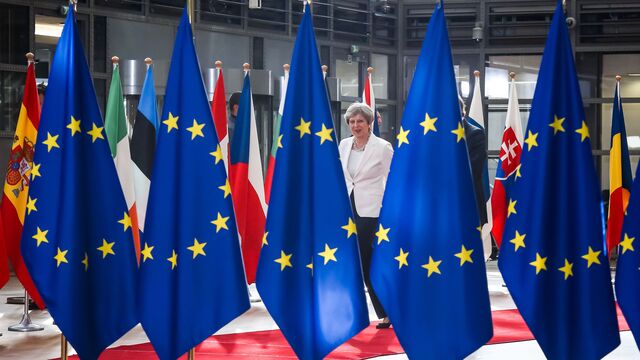 Brexit talks could fail due to a lack of preparation from a divided U.K. government, said former U.K. Business Secretary Vince Cable, currently the only candidate to lead the opposition Liberal Democrat party.
In an interview with Bloomberg Television, Cable pointed to Britain's links with the nuclear agency Euratom as an example of the challenges facing the U.K. government as it prepares to exit the European Union. He said he's "horrified" at the lack of contingency planning for the event that Britain doesn't get a deal with the EU before it leaves the bloc in 2019 and spoke of "major divisions" at the top of Theresa May's government.
Read more: A Q&A on why Brexit's going nuclear over treaty withdrawal
The collapse of the talks "is a plausible scenario," Cable said in London Wednesday. "The point at which it collapses I don't know. I suspect a year down the tracks something catastrophic will occur."
Cable spoke just hours after the EU's chief negotiator, Michel Barnier, issued his second stern warning to Britain in the space of a week, demanding the U.K. government make its positions on Brexit clear so talks can start making progress. "We can't remain idle as the clock's ticking," Barnier told reporters in Brussels. The main opposition Labour Party's foreign-affairs spokeswoman, Emily Thornberry, told Parliament in London Wednesday that ministers "have got to get a grip."
If the economy worsens, the public mood on Brexit could shift, Cable said. Despite this, the prospective Liberal Democrat leader said he doesn't see another general election being called soon as it's "not in the interest of the government."
Cable, whose party failed to get the boost in support it expected from pro-EU voters in last month's election, hit out at both Labour and May's Conservatives. Labour "is on a high after the election" in which it gained seats but is "fragile," Cable said. He deemed the Conservatives "dysfunctional."
The 74-year-old regained his southwest London seat in Parliament last month and launched his leadership bid with a vow to challenge the "irrational cult of youth" in British politics. That cult looks to be fading, with both the prime minister and Labour leader Jeremy Corbyn over the age of 60.
Before it's here, it's on the Bloomberg Terminal.
LEARN MORE