politics
Brazil's Temer Has the Votes to Crush Corruption Charges
By
Temer has more than 172 votes needed to block trial: survey

President would still face probable second round of charges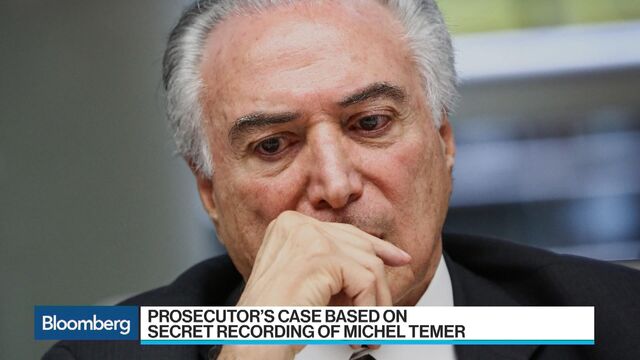 Brazil President Michel Temer has the support to defeat a congressional motion that would put him on trial for alleged corruption, according to a tally of voter intentions compiled by Bloomberg.
The request to try Temer is expected to be up for both a lower house committee and a floor vote as early as this week. Counting only six of the eleven main parties in the president's governing coalition, he would have backing from 203 lawmakers, more than the 172 needed to prevent a trial. The pro-Temer tally based on interviews with party leaders, legislators and presidential aides is likely to be much bigger when including legislators from the PSDB and DEM parties, which have been divided in their support.
"There is a tendency for Temer to win in the committee as well as on the floor," said Miro Teixeira, a eleven-term lower house deputy with the opposition Rede party. "Deputies in the coalition who had considered toppling the government realized that Temer can stay in office
and that it would be risky opposing him."
Coupled with this week's approval of the government's labor reform, a vote shelving accusations against Temer could breathe new life into an administration that has been struggling to survive since the allegations broke in mid-May. Temer would still face a laundry-list of challenges, including a probable second round of charges by the country's top public prosecutor, as well as potentially damning testimony from former House Speaker Eduardo Cunha.
Investor uncertainty over Temer's future spiked last week when key allies began jumping ship and a dissident from his PMDB party was made the lead legislator sponsoring the motion to put on trial the president. Local markets have swayed since the accusations of wrongdoing against Temer surfaced.
On Wednesday, the PMDB decided to close ranks in support of Temer, which implies disciplinary measures for dissidents. "Whoever doesn't comply, will face the party's ethics council and suffer punishment," said party Senator Romero Juca.
Two-thirds of the lower house's 513 deputies would have to vote against Temer to put him on trial before the Supreme Court.
— With assistance by Samy Adghirni
Before it's here, it's on the Bloomberg Terminal.
LEARN MORE