Economics
Big Brands Sponsor Raves in Pakistan to Attract Young Money
Coke, Telenor, and China Mobile want to reach new affluent consumers.
By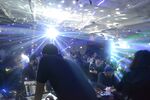 Electronic dance music pulsates as revelers wave their arms in unison and colored spotlights crisscross the ceiling of a lakeside wedding hall. It's Saturday night in Islamabad.
Armed guards stand at the entrance to the Elements Music Festival, an invitation-only affair sponsored by wireless carrier Zong. They frisk guests and sniff bottles for traces of alcohol, which is banned among the nation's Muslim majority. Inside, local DJs Faisal Baig and Fuzzy Nocturnal play sets of bass-heavy, looping music that end Sunday morning to chants of "One more song!"
China Mobile Communications Corp., which owns Zong, is one of several foreign brands trying to grab Pakistan's young consumers by their ears. Coca-Cola, Telenor, and PepsiCo have also sponsored raves. About two-thirds of the population is under 30, and the economy is projected by the International Monetary Fund to grow at more than 5 percent annually over the next five years. Household consumption's contribution to gross domestic product hit 80 percent in 2015, higher than the global average of 58 percent, according to the World Bank. A July 11 report by Moody's Investor Services said that while Pakistan's medium-term growth outlook is strong, the economy is also showing signs of vulnerability, noting "the government's debt burden is high, and fiscal deficits remain relatively wide." Fallout from a probe into corruption allegations against Prime Minister Nawaz Sharif could also dampen growth. Sharif has denied any wrongdoing.
Although annual GDP per capita is just $1,561, according to the Pakistan Bureau of Statistics, the country of more than 200 million is home to a sufficiently large cohort of young, liberal, and affluent consumers willing to pay the 2,500-Pakistani-rupee admission (about $24) to the Elements festival. "There's no nightlife here, there's no clubs," says Bilal Brohi, 30, a Karachi-based DJ and producer. Pakistanis "want to just have a crazy night out. They just want to disassociate."
Many young Pakistanis developed a taste for house music, techno, and other Western genres while studying abroad. They've been able to support their habit after returning home thanks to the growing availability of cell phones, coupled with better internet service. Smartphone shipments increased 28 percent in the first quarter from a year earlier, says International Data Corp.
China Mobile's Zong says it has a 20 percent share of the smartphone market. The company declined to comment on its involvement in the April 1 Elements festival. Djuice, the local mobile phone brand of Norway's Telenor ASA, sponsored the Liberate Music & Arts Festival on May 6; more than 4,000 people were drawn to a Lahore water park by European DJs such as Nick Muir and Teenage Mutants. Coca-Cola Co. and Alphabet Inc.'s Google were co-­sponsors. Telenor's goal was to reach 18- to 29-year-olds with limited entertainment choices, said Saad Warraich, an Islamabad-based spokesman, in an email.
MullenLowe Rauf Group, a Karachi marketing and communications firm, estimates that foreign and domestic companies have ramped up spending on advertising more than 60 percent since 2012, to about 70 billion rupees a year. "People want entertainment," says Saad Salahuddin, a media director at MullenLowe Rauf. "They want more avenues to have fun. They have the power to spend now."
Still, it's not easy to stage a rave in Pakistan. A spate of terrorist attacks in February killed at least 92 people and prompted organizers to push back the dates of the Liberate and Elements festivals by several months. Also, the country's religious authorities and conservative politicians generally oppose the playing of Western music and the mixing of genders. "We do face a lot of backlash," says Mohammad Shah, 28, half of the DJ duo Fake Shamans, who discovered dance music while attending university in London. "People do want places they can have fun. We're fighting through our music."
Most events are clandestine affairs for a few hundred people vetted by promoters and organizers. Locations typically are disclosed only hours in advance through social media to help minimize overcrowding and the possibility of being shut down by police, local bureaucrats, or armed militants. "We have to ensure security," says Shehbaz Sharif, the chief minister of Punjab province and brother of the prime minister, while noting that his government has worked to promote some events.
"The big achievement is that we're getting multinational companies on board," says Fuzzy Nocturnal, the 35-year-old Lahore-based DJ and promoter. "A lot of people want to do festivals, want to do club nights." (Fuzzy declined to give his real name.)
Coca-Cola spends millions of dollars a year on concerts and other music-related activities in major cities in Pakistan, according to Fahad Qadir, a Lahore-based spokesman for the company. Since 2008 its local subsidiary has sponsored a TV show called Coke Studio that features in-studio performances by local artists. The program has proved so popular it's been duplicated in India, the Middle East, and North Africa. "There are two passion points for Pakistanis," says Qadir. "One is cricket, the other is music."
That said, many Pakistani DJs and promoters at the raves have learned that theirs can be a dangerous profession: One says he was beaten up for not playing a track requested by a politician. Another says police raided a concert and arrested a DJ on charges of soliciting sex workers, alleging the women weren't attending by choice.
And sometimes popularity gets in the way of the music. Police shut down the Liberate festival at midnight—before some of the acts could perform—because of concerns about the size of crowds gathering outside the venue. —With Faseeh Mangi
BOTTOM LINE -
Advertisers in Pakistan have ramped up spending more than 60 percent since 2012. Some, like Coca-Cola, are making music a centerpiece of their efforts.
Before it's here, it's on the Bloomberg Terminal.
LEARN MORE