Balance of Power: White House Firestorm
By and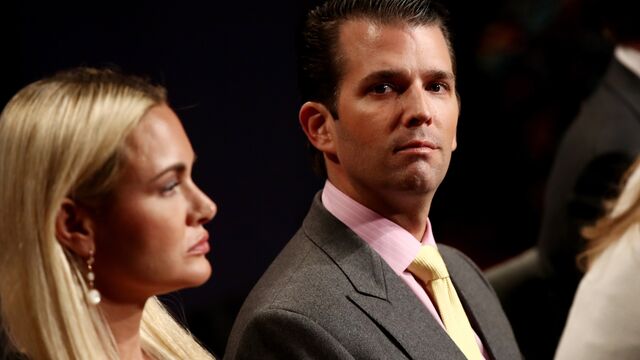 It's official: The probe into the Trump campaign's Russian contacts isn't the witch hunt that the president has claimed.
Emails released yesterday by his son confirm that a member of Donald Trump's inner circle sought political dirt on Hillary Clinton last year, knowing it might come from Moscow.
"If it's what you say I love it," Donald Trump Jr. wrote when an intermediary offered a meeting with a Russian lawyer promising information that could damage Clinton's candidacy.
In Washington, Democrats sought to use the controversy to stall Trump's unpopular Obamacare repeal effort. His supporters laid low. The dollar weakened as the disclosures jolted markets.
"It's a firestorm here," one administration official said.
The furor over Russia's election meddling followed the president home from his tricky first meeting with Vladimir Putin in Germany last week. Now it will stalk him in France, where he heads today.
There's a joint press conference with Emmanuel Macron scheduled for Thursday. That could see Trump face questions on his son for the first time.

Sign up to receive the Balance of Power newsletter in your inbox, and follow Bloomberg Politics on Twitter and Facebook for more.
Global Headlines
Vetting the new FBI chief | Expect the latest revelations about the Trump campaign's dealings with Moscow to come up at Christopher Wray's confirmation hearing this morning. Senators also are likely to press Wray to disclose if the president demanded loyalty in exchange for his nomination, and whether he can he stand up to the White House when the job requires it.
Obamacare repeal push | Senate business will stretch deep into the summer with the first two weeks of the August recess canceled to buy time for the Republicans' embattled health bill. More than a half-dozen Republican and Democratic senators have discussed alternatives, even as Majority Leader Mitch McConnell said he plans a vote next week. 
Yellen in the hot seat | Look for Federal Reserve Chair Janet Yellen to field tough questions from House lawmakers in what could be her final testimony before the Financial Services Committee. Bloomberg's Fed reporters outline possible discussion topics, most notably where Yellen stands on the key issue of the jobless rate, which is splitting the policy-setting Federal Open Market Committee.
Blackout in the Brazilian legislature | Senate Leader Eunicio Oliveira cut the power to the upper chamber after opposition lawmakers staged a protest against a vote on labor legislation. The rowdy scenes reflect the mounting unrest among Brazil's political class as President Michel Temer battles graft charges. The bill was eventually approved late last night, though it may not make much difference to Temer's chances of staying in power.

Political crisis in Pakistan | Prime Minister Nawaz Sharif's future is in doubt after a probe found a big gap between his declared income and his family's wealth. The Supreme Court will examine the findings next week as the scandal adds to existing concerns about the economy. The stock market suffered its biggest fall in eight years yesterday.
Kenya's electoral risk | Less than a month before polling day, Kenyan authorities are behind on everything from printing ballot papers to finalizing a voter list. History offers grounds for concern: Post-election violence claimed more than 1,100 lives in 2008 and growth in East Africa's biggest economy slumped to 1.7 percent from 7.1 percent in 2007.
And finally... With the U.K. and the EU wrangling over the rights of their citizens in post-Brexit Europe, Chancellor Angela Merkel had some advice for a longtime British expatriate: become a German. The exchange between Merkel and Robert Harrison - a British subject and longtime German resident - prompted laughter and applause in Munich when she half-jokingly suggested that "after 25 years, it might be worthwhile to put yourself on a completely safe track."

Before it's here, it's on the Bloomberg Terminal.
LEARN MORE