business
Your Evening Briefing
Bloomberg News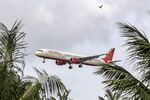 The evening briefing will soon be available in your inbox every day. To be among the first to get it, sign up here.
Who wants to buy a debt-ridden, loss-making airline? Narendra Modi's cabinet wants to offload state carrier Air India — but selling even a minority stake in the 85-year-old company isn't going to be easy. For a start, there's about $8 billion of debt on its balance sheet. Then there are its five subsidiary companies to think about, not to mention its shrinking market share and a combined workforce of 27,000 backed by unions with a history of grounding the airline over work demands. But Air India isn't without its appeal for the right buyer.
Trump dealt a blunt blow by his own son's emails. The U.S. president's credibility was severely dented after his son released emails that directly contradict months of assertions that investigations of possible campaign collusion with Russia were nothing more than a partisan "witch hunt." The president now faces emboldened Democrats in Congress and Republican lawmakers who may be even more likely to shy away from taking political risks on his behalf.
Cryptocurrencies are getting crushed. Bitcoin has lost 20 percent of its market value since mid-June, but smaller digital currencies such as ethereum and ripple have been hit even harder. And the turbulence may be far from over, with rival bitcoin enthusiasts set to adopt two competing software updates at the end of July. That said, volatility is nothing new for buyers of virtual currencies, and the jury's still out on where the market will go next.
Singapore's top performing IPO this year surged 158 percent.  After staging concerts in Singapore for the past two decades, Unusual is taking its entertainment on the road. The company, which has brought Mariah Carey and the Foo Fighters to Asia and will host Justin Bieber's in Singapore later this year, wants to double the number of shows it organizes, expanding into China's second-tier cities and capitals across Southeast Asia.
Australians are divided over their economy like never before. Business confidence is powering along and conditions — a measure of hiring, sales and profits — hit a post-2008 crisis high. But consumer sentiment remains in the doldrums, with pessimists outnumbering optimists for an eighth-straight month, as heavily indebted households struggle with stagnant wages to make ends meet.
Building a 'smart nation' in Singapore doesn't come cheap, for citizens or for the state. The Lion City boasts one of the best education systems in the world — a factor that helps it to attract expat talent — but it's also one of the most expensive, trailing only Hong Kong and the United Arab Emirates. Government spending on schooling has more than doubled since 2005, amid heavy emphasis on equipping students with skills for a digital economy. 
Will Rupert Murdoch's Bel Air winery ever be more than a vanity project? Smack in the middle of a ritzy L.A. neighborhood, the media mogul's Moraga Estate makes $175 reds and $110 whites. But can the vineyard ever turn a profit? "I think we can get there," Murdoch says. "The land is what kills you. The taxes."
If airlines aren't your thing, how about a 1,000-year-old French castle? With grounds designed by the royal gardener to Louis XIV, Château de la Barben has had a long and illustrious string of owners, but has only been on the market once in 500 years. It could be yours for $17 million.

Before it's here, it's on the Bloomberg Terminal.
LEARN MORE