business
'Put a Sock in It,' U.K. Pub Boss Tells Brexit 'Gloomsters'
By
Wetherspoon's Tim Martin draws ire of business lobby group

Martin said 'gloomsters' such as CBI head shouldn't interfere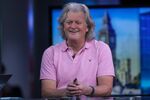 JD Wetherspoon Plc boss Tim Martin, one of corporate Britain's most outspoken supporters of the U.K.'s exit from the European Union, earned a rebuke from the Confederation of British Industry after telling the organization's head to "put a sock in it" over Brexit negotiations.
The business lobby group hit out over comments by the 62-year-old pub company founder, who said that "gloomsters" such as CBI Director General Carolyn Fairbairn shouldn't interfere with the government's negotiations.
"Rather than slinging mud, Mr. Martin should know that all the major U.K. business groups have made clear the risks to the economy of leaving the EU without a deal," a CBI spokesperson said in an emailed statement citing "cliff edges" in tariffs and regulation that the group believes are already clouding investment decisions.
Martin earlier made public his view that demands from institutions such as the Financial Conduct Authority over the need for certainty on Brexit arrangements increase pressure on the U.K. government to agree to a deal on unfavorable terms. The U.K. economy can thrive even if no trade deal is reached with the EU, he said.
"As any buyer of a house or car knows, if you want something too badly, you will pay a very high price -- especially if your desire is obvious to the counterparty," Martin said in comments at the end of Wetherspoon's latest trading update.
The pub operator's chairman has criticized what he perceives to be alarmist rhetoric from bodies tracking the potential fallout from Brexit. In July last year, after printing 200,000 beer mats calling into question the public's trust of the International Monetary Fund, he said forecasters at investment banks were practicing "irresponsible doom-mongering" and didn't understand economics.
While Wetherspoon's like-for-like sales rose 5.3 percent in the 11 weeks through July 9, the U.K. pub industry is under strain after the pound's devaluation following the Brexit vote pushed up the cost of imported food and beer.
Having to pay bartenders more as a result of an increased minimum wage could also force closures, Wetherspoon has said. The number of pubs in the U.K. has fallen steadily for more than three decades, according to the British Beer and Pub Association.
(
Updates with comment from CBI starting in first paragraph.
)
Before it's here, it's on the Bloomberg Terminal.
LEARN MORE