How Trump's 'Hammer' on Chinese Steel Could Hit the U.S.
By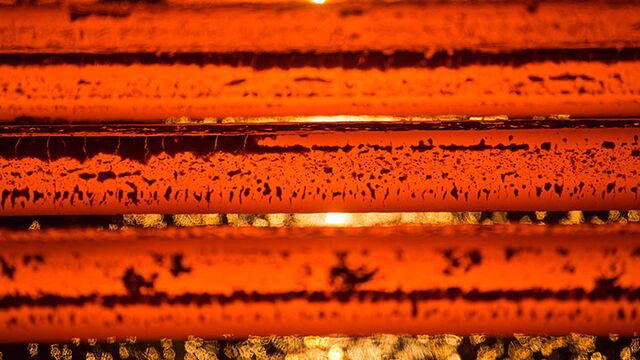 U.S. President Donald Trump may turn to a Cold War-era law to try to stem the flow of steel imports, part of a campaign pledge he made to save American industrial jobs. Nothing will be final until the U.S. Commerce Department completes a review of the issue, but signs are pointing to a determination that cheap imports put national security at risk by weakening the domestic steel industry. The U.S. could wind up deploying a trade weapon known as the "big sledgehammer," a little-used part of a trade law enacted in 1962. Such heavy tools can do unintended damage.
1. What is this weapon?
Section 232 of the Trade Expansion Act of 1962 allows the president to adjust imports unilaterally -- without a vote by Congress -- should the Department of Commerce find evidence of a national-security threat from foreign shipments. The ongoing review by Commerce Secretary Wilbur Ross, a former steel tycoon, began in April and has 270 days to finish, but has already missed a self-imposed deadline of the end of June.
2. What constitutes a security threat?
It's been pretty tightly defined. Before this case, there have been 26 reviews under Section 232, most recently in 2001. The eight reviews that found a credible threat to national security were all related to oil. No 232 investigation has found a national security threat related to metals. 
3. What's the case for steel as a national-security issue?
Advocates of a Section 232 action say that a weakened U.S. steel industry would be less ready to build tanks and other weaponry should a military crisis arise.
4. What's the problem with importing steel?
For one thing, it hurts U.S. steel jobs in states that helped Trump win the presidency. But the U.S. isn't alone in wanting to protect its domestic steel markets. The global steel industry has an estimated capacity surplus of more than 700 million metric tons, with about half of that in China, which is exporting record amounts. When prices rise, more production comes online, pulling prices back down. The U.S.'s main goal is to increase capacity utilization from about 74 percent to more than 80 percent, according to Seth Rosenfeld, an analyst at Jefferies International. Once that rate gets about 80 percent it lowers fixed costs, which would allow U.S. firms to compete on price.
5. Where do the imports come from?
The global steel industry has been described as a game of whack-a-mole. If exports are blocked in one market, the action shifts elsewhere in what's known as the ripple effect. While China is seen as the bogey-man of steel dumping, its exports to the U.S. have fallen by 72 percent since 2014, the result of tariffs imposed under President Barack Obama. China was only the 11th-biggest exporter to the U.S. last year. However, in the same period, imports from Vietnam have risen more than six-fold. Of the total 30 million tons the U.S. imported last year, almost a third came from Canada and Brazil.
6. How would other countries respond to a U.S. crackdown?
Any move by Trump is likely to prompt a furious response from the rest of the world. The European Union has said it will retaliate if "unjustifiably hit" by curbs on steel imports. The EU is likely to respond quickly, not only by imposing measures against the U.S., but also by strengthening its own defenses against redirected steel exports from China. Europe's steel lobby has said that it will ask the European Commission to strictly impose measures on countries that export low-price steel to the region. Other countries might join the U.S. in strengthening trade defenses against China, ultimately forcing the top producer to cut its own capacity and exports.
7. Would the World Trade Organization get involved?
Probably not. Though the WTO is the international arbiter of trade disputes, trade rules that date back decades permit countries to impose trade restrictions when they feel their national security is at risk.
8. What could go wrong?
The biggest risks are increasing domestic steel prices -- which would create pressures on other areas of U.S. manufacturing -- and tit-for-tat retaliation. Because the U.S. doesn't export much steel, it could see other export products become targets. The U.S. wheat industry warned that a restriction on steel imports may lead other countries to use similar national-security claims to hurt U.S. farmers.
The Reference Shelf
— With assistance by Andrew Mayeda
Before it's here, it's on the Bloomberg Terminal.
LEARN MORE