quicktake
How Trump's 'Hammer' on Chinese Steel Could Hit the U.S.
By and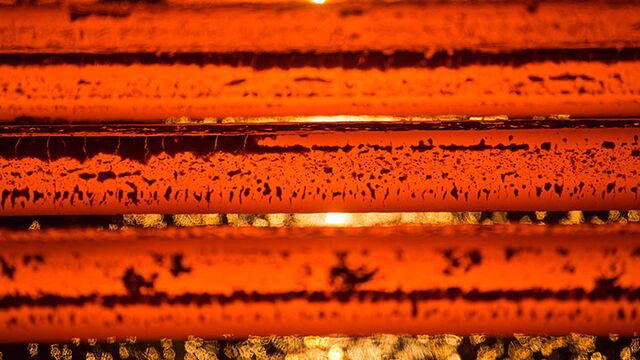 U.S. President Donald Trump is considering turning to a Cold War-era law to stem the flow of steel imports, part of a campaign pledge to save American industrial jobs. He could wind up deploying a weapon known as the "big sledgehammer," a little-used part of 1962 trade legislation, arguing that cheap imports put national security at risk by weakening the domestic steel industry. Such heavy tools can prompt a furious response from other countries, triggering complaints to the World Trade Organization.
1. What is this weapon?
Section 232 of the Trade Expansion Act of 1962 allows the president to adjust imports unilaterally -- without a vote by Congress -- should the Department of Commerce find evidence of a national-security threat from foreign shipments. The ongoing review by Commerce Secretary Wilbur Ross, a former steel tycoon, began in April and has 270 days to finish. A self-imposed deadline of the end of June was missed.
2. What's the case for steel as a national-security concern?
Advocates of a Section 232 action say that a weakened U.S. steel industry would be less ready to build tanks and other weaponry should a military crisis arise. The law doesn't define "national security," so the president has wide latitude to determine a threat.
3. Is there a U.S. precedent?
Not really. Before this case, there have been 26 reviews under Section 232, eight of which found a credible threat to national security. All of those involved oil. In the most recent case, in 2001, the Commerce Department investigated iron ore and semi‐finished steel and determined that imports didn't threaten national security.
4. What's the problem with importing steel?
For one thing, it hurts U.S. steel jobs in states that helped Trump win the presidency. But the U.S. isn't alone in wanting to protect its domestic steel markets. The global steel industry has an estimated capacity surplus of more than 700 million metric tons, with about half of that in China, which is exporting record amounts. China's trade partners have been pushing Beijing to tackle domestic-market distortions rooted in state intervention. The EU and U.S. are the world's largest steel importers and have been vocal campaigners for China to do more to re-balance the overall market.
5. Where do U.S. imports come from?
The global steel industry has been described as a game of whack-a-mole. If exports are blocked in one market, the action shifts elsewhere in what's known as the ripple effect. While China is seen as the bogey-man of steel dumping, its shipments to the U.S. have fallen by 72 percent since 2014, the result of tariffs imposed under President Barack Obama. China was only the 11th-biggest exporter to the U.S. last year. However, in the same period, imports from Vietnam have risen more than six-fold. Of the total 30 million tons the U.S. imported last year, almost a third came from Canada and Brazil.
6. How would other countries respond to a U.S. crackdown?
Any move by Trump is likely to prompt a rapid response from the rest of the world. The European Union has said it will retaliate if "unjustifiably hit" by U.S. curbs; the bloc would likely also strengthen its own defenses against redirected steel exports from China.
7. How would the WTO get involved?
The U.S. would notify the WTO -- the international arbiter of trade disputes -- of steel-import restrictions and could cite national security as a justification. Other countries could object, perhaps by claiming the U.S. was improperly discriminating by targeting only some steel-exporting nations. Ultimately, a WTO dispute-settlement panel would rule.
8. Might any previous WTO dispute over steel offer guidance?
Yes. U.S. President George W. Bush in 2002 slapped tariffs as high as 30 percent on imported steel under a WTO "safeguards" provision, which allows "emergency" action to stem increased shipments that hurt domestic manufacturers. The EU, joined by Japan, South Korea, China, Switzerland, Norway, New Zealand and Brazil, complained to the WTO. Some WTO members including the EU also introduced their own safeguard measures to prevent any surge in steel imports as a result of trade diverted away from the American market. The complainants won the case in 2003 and received the green light to impose counter measures on an equivalent value of U.S. exports (in the EU's case, this meant preparing to apply extra tariffs on 2.2 billion euros ($2.6 billion) of American goods ranging from orange juice to photocopy machines). The WTO verdict and threat of retaliation prompted the U.S. to remove its safeguards protection, ending the dispute.
9. Does the WTO allow national-security exceptions?
Yes. Article 21 of the General Agreement on Tariffs and Trade -- the WTO's less-muscular predecessor for almost 50 years until 1994 -- is still in effect. It says that nothing can "prevent any contracting party from taking any action which it considers necessary for the protection of its essential security interests." The provision specifies three areas of security interests: nuclear materials, arms trafficking and "war or other emergency in international relations." U.S. President John F. Kennedy invoked the security exception when imposing a trade embargo against Cuba in 1962, in the run-up to the Cuban missile crisis.
10. Does the WTO consider steel a national-security issue?
It has never ruled on the matter. Any move by Trump to limit U.S. steel imports on the basis of Article 21 would set a bad precedent, says Petros Mavroidis, a WTO expert at Columbia Law School in New York: "Can you imagine how the Russians and Chinese might behave in response? Never has anyone made the argument that the import of steel involves national-security risks."
11. What could go wrong?
The biggest threats for the U.S. are increasing domestic steel prices -- which would create pressures on other areas of manufacturing in the country -- and tit-for-tat retaliation by trade partners. Because the U.S. doesn't ship much steel abroad, it could see other exported products become targets. The U.S. wheat industry warned that a restriction on steel imports may lead other countries to use similar national-security claims to hurt American farmers.
The Reference Shelf
— With assistance by Andrew Mayeda
Before it's here, it's on the Bloomberg Terminal.
LEARN MORE