politics
Boris Johnson Is Now Trying to Fix the Saudi-Qatar Dispute
By and
Boris Johnson once accused Gulf kingdom of 'puppeteering'

Foreign secretary acting as diplomatic go-between with Qatar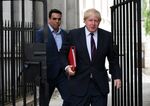 Foreign Secretary Boris Johnson, who once accused Saudi leaders of "puppeteering and playing proxy wars" in the Middle East, is now taking on the role of peacemaker in the spat between the kingdom and Qatar.
A cheerleader for Brexit, Johnson and his colleagues now seek friends in the Gulf to help make it a success, and his tone has grown conciliatory. At stake isn't just harmony between oil-producing nations whose key export contributes to fueling western economies. There are billions of pounds of defense contracts that can bolster the economy as the U.K. quits the European Union.

"We think the blockade was unwelcome and we hope there will be a de-escalation," Johnson said in a pooled TV interview Saturday as he shuttled between the capitals of the feuding nations. "Progress can be made and there is a way forward," he said. "But I'm not going to pretend to you now that it is necessarily overnight or this is going to be done in the next couple of days."
Saudi Arabia and three Arab allies severed ties with Qatar last month, accusing it of supporting extremists and cozying up to chief Saudi rival, Iran.
Johnson's delicate mission was hardly the first time a top U.K. official has had to balance concern over human rights in Saudi Arabia against the need for anti-terrorist intelligence and business. Several premiers before Theresa May have been accused of failing to find the right mix. Now it's her turn.
Court Case
A court case triggered by arms sales and two reports on extremism -- one of them reportedly lying unpublished on May's desk -- brought uncomfortable questions as she prioritizes relations with the world's biggest oil exporter.
U.K. judges ruled on Monday that the Campaign Against Arms Trade had failed to show a clear risk that British-made weapons sold to Saudi Arabia might be used to violate international humanitarian law.

The ruling followed last week's publication of a report by the Henry Jackson Society, a think tank, saying Saudi Arabia has played an important role in promoting extremist strains of Islam in the U.K.'s mosques and religious schools -- including the training of preachers who have advocated jihadist violence. Newspapers have also reported that the government is sitting on its own study on U.K.-based Islamist groups, commissioned by former Prime Minister David Cameron in 2015. The Saudi Embassy in London says the claims in the Henry Jackson report are "categorically false."
Saudi Arabia was part of May's first international visit just five days after the Brexit process was triggered in March, but she also doesn't want to upset Qatar. Authorities in Doha have invested heavily in Britain and, as Brexit approaches, it's an ally -- and source of capital -- that May can ill-afford to lose.
Sales to Saudi Arabia have been the mainstay of the U.K.'s arms trade, representing about 37 percent of its total weapons exports since 2012, according to IHS Markit analyst Ben Moores. U.K. companies are estimated to have delivered more than 5.3 billion pounds ($6.8 billion) in arms to the Saudis in the last five years, Moores said.

Those exports have, though, caused problems. Margaret Thatcher signed a 43 billion-pound contract with Saudi Arabia in 1985 that was paid for in barrels of oil, a deal later embroiled in claims that the company involved, BAE Systems Plc, ran a "slush fund" to sweeten Saudi royals. In 2010 U.K. defense contractor BAE agreed to pay almost $400 million to the U.S. and 30 million pounds to the U.K. to resolve a bribery and fraud investigation.
Documents released by the National Archives last year showed that Thatcher secured the pact through secret meetings with the Saudi king -- and made efforts to keep the negotiations out of the media. More than 20 years later, Tony Blair was criticized when he dropped a corruption probe into the sale citing its potential to wreck diplomatic relations and destroy jobs.
100 Licenses
More than 100 new export licenses have been approved since March 2015, when Saudi Arabia intervened in Yemen to support the government against Houthi rebels that Saudi Arabia sees as proxies for Iran. In May, the United Nations said the war had killed nearly 5,000 civilians and reduced millions more to the point of starvation.
U.K. Trade Secretary Liam Fox, who was appointed by May last year to maximize British overseas sales after Brexit, said on Monday that the government remains committed to the sales. If British companies withdrew, others would step in, he said, emphasizing that the U.K. has worked with the Saudis on defining their rules of engagement so non-combatants in Yemen are not harmed.
Sales to Saudi Arabia accounted for 21 percent of BAE's revenue in 2016. The company has been working to secure a new Saudi order for the Eurofighter jet as it delivers the final four of the 72 jets acquired by the kingdom in 2006.
Most U.K. arms exports head outside the EU, so it may emerge relatively unscathed from Brexit. It is an industry that May could lean on to bolster Britain's economy, with defense budgets beginning to recover after the post-financial crash slump.
The opposition Labour Party has promised to ban weapons sales to Saudi Arabia if it comes to power. That position has become more important after May lost her parliamentary majority and the latest opinion poll showed Labour ahead by eight points.
"The government continues to sell arms to Saudi Arabia, one of the most oppressive and brutal regimes, that finances terrorism and is breaching humanitarian law," party leader Jeremy Corbyn said. "The courts may have ruled that the government acted legally; it certainly is not acting ethically."
— With assistance by Andrew Atkinson
Before it's here, it's on the Bloomberg Terminal.
LEARN MORE