Trump's FBI Pick Faces Questions on Independence Versus Loyalty
By and
Wray would succeed James Comey, who was fired as FBI director

Former DOJ official represented Credit Suisse, Chris Christie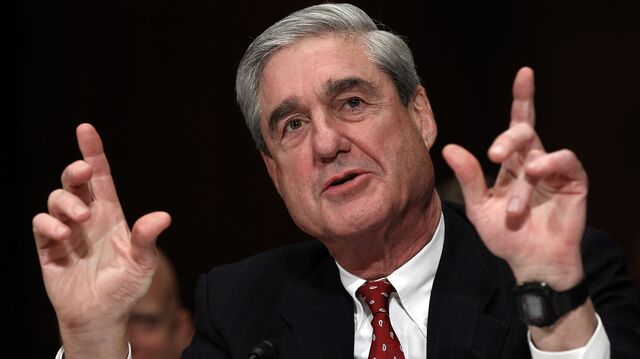 Donald Trump's nominee to lead the FBI will hear two questions repeatedly from senators at his confirmation hearing Wednesday: did the president demand loyalty in exchange for his nomination, and can he stand up to the White House when the job requires it.
Trump's pick, Christopher Wray, will step into a precarious job if confirmed to succeed James Comey, who was fired by the president in May after increasing frustration over a federal probe into Russia's election-meddling and possible links to Trump associates. Comey said the president sought assurances of his loyalty at a private dinner meeting and later encouraged him to drop an investigation into fired National Security Adviser Michael Flynn.

Wray, 50, has a history of taking on politically tough assignments. A former Justice Department official who helped the U.S. respond to the Sept. 11 attacks, Wray represented Credit Suisse Group AG before its main unit pleaded guilty in 2014 and paid $2.6 billion for helping thousands of Americans evade taxes. He also represented New Jersey Governor Chris Christie in the so-called Bridgegate scandal investigation of politically motivated traffic delays in 2013.
"He will not be influenced by politics in any way," said Andrew Hruska, a former partner of Wray's at King & Spalding LLP who has known the FBI nominee since Wray was 5 years old. "I have absolute confidence that Chris will keep the law first. He will do what is required of him under the Constitution at all times."
Tumultuous Time
Yet Wray's nomination comes at a tumultuous time for the Federal Bureau of Investigation, which is still reeling from Comey's dismissal and the subsequent appointment of Robert Mueller as special counsel overseeing the federal Russia probe. Some agents have said they believe the FBI is at a historic tipping point of asserting its independence versus becoming politicized, as it was for decades until revisions in the mid-1970s.
Trump has continued to rail against the Russia probe, calling it "fake news" propagated by Democrats and an adversarial media frustrated about Hillary Clinton's defeat in the 2016 election. He said Comey's decision to leak notes he took about their meetings to the media was illegal, though it is still not clear if the material was classified. That leak, which Comey exposed in his own testimony to the Senate last month, may serve as a key point Republicans will raise during the Wray hearing.
Regardless, after meeting Russian President Vladimir Putin in Germany last week, Trump signaled that he'd like to move on from the U.S. intelligence community's conclusion that Moscow meddled in the election with the goal of helping defeat Clinton.
For a QuickTake Q&A on the twists in the Trump-Russia probe, click here
"What the two presidents, I think, rightly focused on is, how do we move forward?" Secretary of State Rex Tillerson told reporters in Germany. "Because it's not clear to me that we will ever come to some agreed-upon resolution of that question between the two nations."
The choice of Wray last month took many senators by surprise but was generally received positively. Republican Senator John McCain of Arizona said Wray "looks like he's well credentialed," while Mark Warner, the top Democrat on the Intelligence Committee, said, "I hear he had a good reputation." House Speaker Paul Ryan said he "seems like the right person" for the job.
"I felt we should have a career person take over the FBI, someone with a deep bench of experience," Ryan said June 7, when the nomination was announced. "He certainly seems to fit that bill."
Wray's hearing before the Senate Judiciary Committee is scheduled for 9:30 a.m. Washington time Wednesday.
If confirmed, the Yale Law School graduate would play a key role in Mueller's investigation, overseeing the agents that the special counsel depends on to pursue his probe. But he would also help carry out Attorney General Jeff Sessions's focus on fighting illegal immigration and violent crime. Sessions recused himself from involvement in the Russia probe after he initially failed to disclose contacts with Russian officials during the 2016 election campaign.
Criminal Division
Heading into Wednesday's hearing, Wray likely will lean heavily on his previous experience when he was confirmed to head the Justice Department's criminal division, where he served from September 2003 until May 2005.
"Our highest priority was protecting America from the threat of terrorism and strengthening national security," Wray said in a 68-page questionnaire to the committee about his earlier work at the department. "Leadership of the Counterterrorism and Counterespionage sections consumed the greatest portion of my time and attention during that period, working closely with U.S. Attorney's Offices around the country and with investigative agencies, especially the FBI."
But Wray's tenure at the Justice Department could also be among the most contentious aspects of his confirmation process. Senators likely will want to know what knowledge he had -- or role he played -- in controversial anti-terror programs put in place after the Sept. 11 attacks.
Waterboarding, Surveillance
For example, while Wray was at the Justice Department, the George W. Bush administration began using so-called enhanced interrogation techniques on suspected terrorists being detained. Some of the tactics, such as waterboarding, are now designated as torture. The administration also conducted warrantless electronic surveillance inside the U.S., another practice which has since been banned.
"Given that Wray touts his deep involvement in the Bush administration's response to the 9/11 attacks, which includes his connections to some of the most unlawful legal memos on Bush-era torture programs, the Senate should press Wray to come clean about his role in the programs," Faiz Shakir, national political director for the American Civil Liberties Union, said in a statement following Wray's nomination.
Wray also helped lead the Justice Department's efforts to address a wave of corporate fraud scandals, overseeing the prosecutions of Enron Corp. and HealthSouth Corp., among other major investigations.
Russia Clients
Wray left government service in 2005 and has since built a reputation as a white-collar defense attorney at Atlanta-based King & Spalding, where he's now a litigation partner.
 
Wray said in the questionnaire that investigations he has handled while in private practice "have been both domestic and international in scope and have ranged from targeted, discrete internal investigations to massive investigations across multiple components of global businesses in response to requests from multiple enforcement authorities."
King & Spalding's energy practice has represented clients working on deals involving Russia, including the state-owned Rosneft Oil Co. and Gazprom PJSC, according to the firm's website. It says the firm also represented a large Russian oil company it does not identify that operates in Kazakhstan.
Wray's choice is not the first time Trump has turned to King & Spalding. In January, the Trump Organization Inc., the president's private business, chose partner Bobby Burchfield to serve as an independent ethics adviser.
— With assistance by Tom Schoenberg
Before it's here, it's on the Bloomberg Terminal.
LEARN MORE