business
Your Evening Briefing
Here are today's top stories
Bloomberg News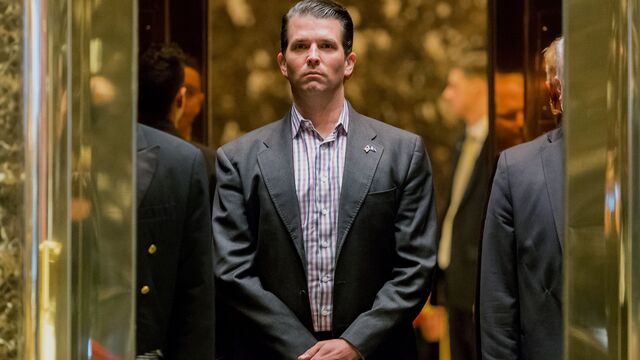 Want to receive this post in your inbox every afternoon? Sign up here.
"This is obviously very high level and sensitive information but is part of Russia and its government's support for Mr. Trump."
That was a portion of an email with the subject line "Russia - Clinton - private and confidential" that Donald Trump Jr. received last year from Rob Goldstone, a former British tabloid journalist and marketing executive who set up a meeting between the younger Trump and a Russian lawyer. "If it's what you say I love it," Donald Trump Jr. responded. –Emily Banks
Donald Trump Jr. was told Russia sought to hurt Clinton, according to the aforementioned emails, which he released on Twitter today. The president's son acknowledged that he was told before a meeting last year with a Russian lawyer that she had potentially damaging information on Hillary Clinton, and that information came from officials in Moscow as part of an effort to help his father's presidential campaign. Jared Kushner and then-campaign manager Paul Manafort also attended that meeting.
President Trump was sued for blocking Twitter users. The Knight First Amendment Institute, a nonprofit organization affiliated with Columbia University, alleges the president and high ranking members of the White House staff violate the Constitution by blocking Twitter users. The case seeks a court order that Trump stop the practice. The foundation argues the president's account is "a public forum under the First Amendment" because of how he and his staff use it.
A diplomat blacklisted by the EU is set to be Russia's new U.S. ambassador. Anatoly Antonov, a hard-line critic of U.S. foreign policy, is on track to succeed Sergey Kislyak later this year, according to three officials familiar with the planning. Antonov is sanctioned by the EU for his role in the covert Russian military intervention in eastern Ukraine, and he is currently deputy foreign minister.
Bitcoin is at risk of splintering. The notoriously volatile cryptocurrency has experienced a 150 percent surge this year, and rival factions of computer whizzes who play key roles in bitcoin's upkeep are poised to adopt two competing software updates at the end of the month. It has raised the possibility that bitcoin will split in two, an unprecedented event that would send shockwaves through the $41 billion market.
Kaspersky Lab has been working with Russian intelligence. Internal e-mails from Kaspersky, one of the biggest cybersecurity companies in the world, show its ties to Russian intelligence services go deeper than previously disclosed. Kaspersky's work with Russian intelligence could scare off business in Western Europe and the U.S., where Russian cyber operations have grown increasingly aggressive, including attempts to influence elections.
Bored traders are a symptom of Wall Street's dip in revenue. After four straight quarters of rising income from trading, the biggest U.S. investment banks spent the past few months in a renewed slump. One bond trader says he's been slipping out early to watch his kids play sports. A fund manager says his office just staged a golf retreat. A trading supervisor at another bank confides he's swiping through a lot of profiles on Tinder.
Own a 1,000-year old castle in France for $17 million. The earliest record of this property is from 1064, when it was owned by the monastic order, the Abbey of Saint Victor de Marseille. Bertrand Pillivuyt came to occupy the Château de la Barben in Aix en Provence the old fashioned way: "I inherited it," he said. Now, he's putting it on the market.

Before it's here, it's on the Bloomberg Terminal.
LEARN MORE