Photographer: Bryan van der Beek/Bloomberg
business
Singapore's Temasek Is 'Cautious' on Listed Stocks
By and
Michael Buchanan, head of strategy, comments in interview

State investment firm's one-year return bounced back to 13%
Start your day with what's moving markets in Asia. Sign up here to receive our newsletter.
Singapore's Temasek Holdings Pte is planning to buy more unlisted assets as high valuations and prospects for tighter global liquidity encourage caution on listed stocks, according to Michael Buchanan, the state investment firm's head of strategy.
"We have some advantages in the private space," Buchanan said in a pre-recorded interview with Bloomberg TV in the city-state on Tuesday. The firm is "a little more cautious" on listed equities because of valuations, liquidity and "the inevitable political risk that we see around the world," he said.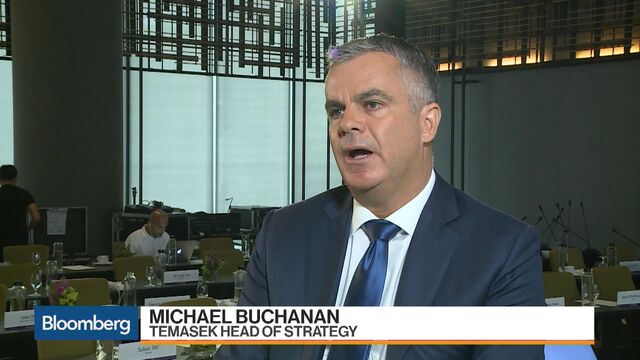 Temasek earlier reported a 13 percent gain in its assets to a record S$275 billion ($199 billion) in the year through March 31, reversing a previous 9 percent slide.
Investors worldwide are grappling with inflated valuations and sluggish growth, with Singapore's GIC Pte warning Monday the outlook may be challenging for as long as a decade. Temasek took opportunities during the year to sell equities and pared back its new investments to about half the level of the previous 12 months. The firm kept nudging up its proportion of unlisted assets, with the amount rising to 40 percent.

Buchanan said Temasek was "cautiously optimistic" about the outlook for global growth. Chairman Lim Boon Heng earlier said that while "the global recovery is gaining momentum, there are still uncertainties both in the medium as well as longer term."

The firm made S$16 billion in new investments in the 12 months ended March, down from S$30 billion in the previous year. Divestments totaled S$18 billion.
Returns for sovereign funds have rebounded as global stocks rallied. Japan's Government Pension Investment Fund, the world's biggest pension fund, returned 5.9 percent in the year ended March 31, recovering from its worst performance since the global financial crisis. GIC said Monday its nominal five-year annualized return in U.S. dollars climbed to 5.1 percent from 3.7 percent.
Temasek's total shareholder return -- compounded, annualized and including dividends -- was 4 percent in Singapore dollar terms for the past 10 years. That's in line with the 4 percent annualized return for the MSCI World Index in Singapore dollar terms over the same period, and compares with the 4.8 percent return in U.S. currency terms, according to Bloomberg data. Temasek's return was 6 percent for the past 20 years, and 15 percent since the firm's inception in 1974. 

A comeback by U.K. lender Standard Chartered Plc helped boost Temasek's performance, with the bank's shares gaining 61 percent after a battering the previous financial year. Temasek is the biggest shareholder. Likewise, DBS Group Holdings Ltd., the largest lender in Southeast Asia, surged ahead and Temasek also benefited from Chinese banks' gains, after a bloodbath the previous year.
Alibaba Group Holding Ltd., in which Temasek was one of the early investors, powered ahead. Gains were muted from the investment firm's single most valuable holding: shares of Singapore Telecommunications Ltd. rose 2.6 percent over the financial year.
"We have continued to rebalance our holdings towards longer term macro opportunities such as the transforming economies, as well as emerging new trends such as the digital enablers for new businesses," Lim said.
Temasek's moves in the past year included:
Buying the remaining shares in Singapore rail operator SMRT Corp. for S$1.2 billion, a step to taking the firm private.
Selling shares in Thailand's Intouch Holdings Pcl and India's Bharti Telecom Ltd. for S$2.47 billion to Singapore Telecommunications Ltd., with the payment including Singtel stock.
Investing $800 million in Verily Life Sciences LLC, the medical arm of Alphabet Inc.
— With assistance by Melissa Cheok
(
Updates to add MSCI 's return by currency in 8th paragraph.
)
Before it's here, it's on the Bloomberg Terminal.
LEARN MORE