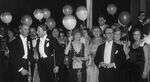 Might the bond rout have subsided?
It's less than two weeks since European Central Bank President Mario Draghi's warning that central bank stimulus was coming towards an end set off a surge in government bond yields.
But the waters have calmed enough for five European companies to start high-yield bond offerings on Monday.

Even though the yield on the benchmark 10-year German bund has climbed above 50 basis points for the first time this year, the knock-on reaction for corporate borrowers has been surprisingly muted.

Investment grade credit spreads have hardly budged from near record lows -- an unusual phenomenon when underlying government yields are rising.
While there has been something of a move in high yield spreads, it's been only modest, and looks to have made the conditions easier for several infrequent issuers to all brave the new issuance market at the same time.

High-grade supply was little affected by the rate markets backing off. More than 20 issuers came in the first week of July, and spreads on two-thirds of them tightened from launch.
Time, then, for the lowlier-rated corporate issuers to seize their opportunity.
With the summer lull fast approaching, it looks smart to try and raise capital now. September will bring an important ECB meeting. The central bank is expected to start scaling back its bond-purchase program.
With that comes the risk of higher rates across the yield curve and steeper funding costs for corporate issuers. A delay might prove more costly.
Before it's here, it's on the Bloomberg Terminal.
LEARN MORE