Remarks
What New England Can Learn From Old England
The U.K. uses fast, frequent rail service to revitalize "bypassed" smaller cities.
By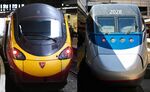 New England has a lot in common with Old England. Smaller cities that were cradles of the Industrial Revolution have fallen on hard times. Hartford, the capital of Connecticut, is flirting with bankruptcy. Jobs and people are leaking away. All the excitement and energy is in the big cities: London, New York, and Boston.
There's a big difference, though. The United Kingdom is doing something to rejuvenate its cities of faded grandeur in the north of England, including Manchester, Liverpool, Leeds,  Sheffield, and Newcastle. A key element of the plan is high-speed rail to connect those cities to London and to each other. The Brits upgraded the West Coast Main Line, which runs from London to Glasgow, Scotland, and traffic soared. Now they're starting work on a $52 billion line called High Speed 2 that will cut travel time from London to Manchester roughly in half, to 1 hour, 8 minutes. Amtrak's fastest train from New York to Boston takes 3 hours, 45 minutes—for a trip that's only 30 miles longer, as the crow flies.
New England should learn a trick from its older brother, according to Rebooting New England, a new report from the University of Pennsylvania School of Design (PDF here). It was written as a master's degree project by a team of 12 students under the direction of Robert Yaro, who is a professor of practice in city and regional planning and a past president of New York's Regional Plan Association. 
Mid-sized cities in the north of England "are functioning more as a constellation than a disconnected assortment of metros consumed by local interests," says the report. The southern New England states of Connecticut, Rhode Island, and Massachusetts should do the same, it says, becoming "a unified regional network that is well positioned both to incubate innovative industries and to compete globally for growth opportunities."

Key to the PennDesign plan is a new line for trains traveling up to 220 miles per hour. The tracks would run east from New York City through Long Island, follow a new tunnel beneath the Long Island Sound, head north from New Haven to Hartford, and then cut east to Providence before going north to Boston. That's different from Amtrak's plan, which would add high-speed service on the existing right of way, which hugs the Connecticut shoreline. Yaro says Amtrak's plan would involve massive disruption of shoreline communities and ecosystems and would miss the opportunity to provide enhanced connections to eastern Long Island and northern Connecticut. (On July 12 the Federal Railroad Administration announced that it had selected a high-speed route that mostly follows the current New York-to-Boston route, except for the section from New Haven to Providence, which was left undecided.)
The Penn students made a field trip to England to pick up ideas for New England. They met with people from the Northern Powerhouse Partnership, which is headed by George Osborne, who served as Chancellor of the Exchequer to former Conservative Prime Minister David Cameron, and is supported by current Prime Minister Theresa May. (Michael Bloomberg, the founder and majority owner of Bloomberg LP, has also pledged support for the partnership.)
Linking such New England cities as Hartford, Bridgeport. and Waterbury in Connecticut,, and Springfield, Mass., to New York and Boston is a no-brainer, the report says. The smaller cities have abundant cheap housing, which the big cities lack. But it's not just about making new bedroom communities, says one of the student authors, Jarred Toups. New businesses and satellites of existing ones would open in the smaller cities if they had better transport links, the researchers concluded. Beyond the U.K., the city of Lille in northern France was rejuvenated that way.
The Penn plan isn't cheap. One estimate in the report is $140 billion in capital costs. But it would pay for itself several times over in stronger economic growth and, hence, higher tax revenues, the authors conclude. Emil Frankel, a former Connecticut transportation commissioner and a former assistant secretary for transportation policy for President George W. Bush, was an adviser on the Rebooting project. He says he tends to be skeptical of big-ticket items—"I'm not a big believer in build-it-and-they-will-come projects," he says—but says there's abundant evidence in the U.S. and other countries that "commuter rail services are proving to be a great investment."
Yaro describes southern New England as the eastern edge of America's Rust Belt, and says that a successful project to restore growth there could be a "template" for other parts of the country. As it is now, he says, "We just kind of watch these places unravel and say it's the hidden hand, or an act of God." What's required, he says, is political leadership and unity. "The  last time New England states got together was to oppose Mr. Jefferson's embargo," says Yaro. "It didn't go very well."
(Updates with Federal Railroad Administration decision in 5th paragraph.)

Peter Coy
Bloomberg Businessweek Columnist
Peter Coy is the economics editor for Bloomberg Businessweek and covers a wide range of economic issues. He also holds the position of senior writer. Coy joined the magazine in December 1989 as telecommunications editor, then became technology editor in October 1992 and held that position until joining the economics staff. He came to BusinessWeek from the Associated Press in New York, where he had served as a business news writer since 1985.
Before it's here, it's on the Bloomberg Terminal.
LEARN MORE