Angela Merkel's Advice to a British Expat: Get a German Passport
By
Yet she's confident citizen-rights solution will be found

Won't just be 'bundled off to Birmingham,' chancellor says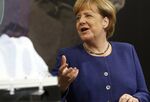 Chancellor Angela Merkel had some words of advice for a longtime U.K. expatriate: get yourself a German passport.
The exchange between her and Robert Harrison -- a British subject and longtime German resident -- prompted laughter and applause at a business event in Munich when Merkel was asked about the rights of U.K. citizens living in the European Union and half-jokingly suggested that "after 25 years it might be worthwhile to put yourself on a completely safe track."
"But we are trying, which is why the rights of citizens are the first item on the negotiating agenda" in the U.K.'s divorce talks with the EU, she said Tuesday. "I believe that this issue can be solved."
U.K. Prime Minister Theresa May's opening offer on the topic in June was rebuffed by chief EU chief negotiator Michel Barnier, who said "more ambition, clarity and guarantees" were needed.
A key dispute is over how to settle any citizenship disputes that arise, with the U.K. rejecting the jurisdiction of the European Court of Justice while conceding it may hold some sway for a "limited time."
Merkel said that whichever procedure emerges from the talks will serve as a model for post-Brexit dispute settlement between the EU and U.K. in other areas, making the stakes that much higher.
Police Raid?
"In the U.K., the European Court of Justice is as unpopular as the free movement of people," Merkel said. "So how we solve this is one of the first big questions."
Even so, "I don't think you have to be worried that after 25 years in Germany, you'll immediately be bundled off to Birmingham" when Britain leaves the EU, Merkel told the questioner, who asked whether in March 2019 the federal police "will show up at 6:30 a.m. and pick me up?"
Merkel said later Tuesday she remains committed to "constructive talks" between the EU and the U.K. that yield "a good outcome."
"That means establishing legal certainty as quickly as possible for all citizens and companies that are directly impacted by Brexit," the chancellor told a policy forum in the western German city of Essen. "Britain and Germany as well as the EU will remain close partners."
Before it's here, it's on the Bloomberg Terminal.
LEARN MORE