When Janet Yellen Talks, This Is What Traders Will Be Listening For
By
Central bank tightening not hitting financial conditions

Yellen testimony may give clues on Fed's stance on valuations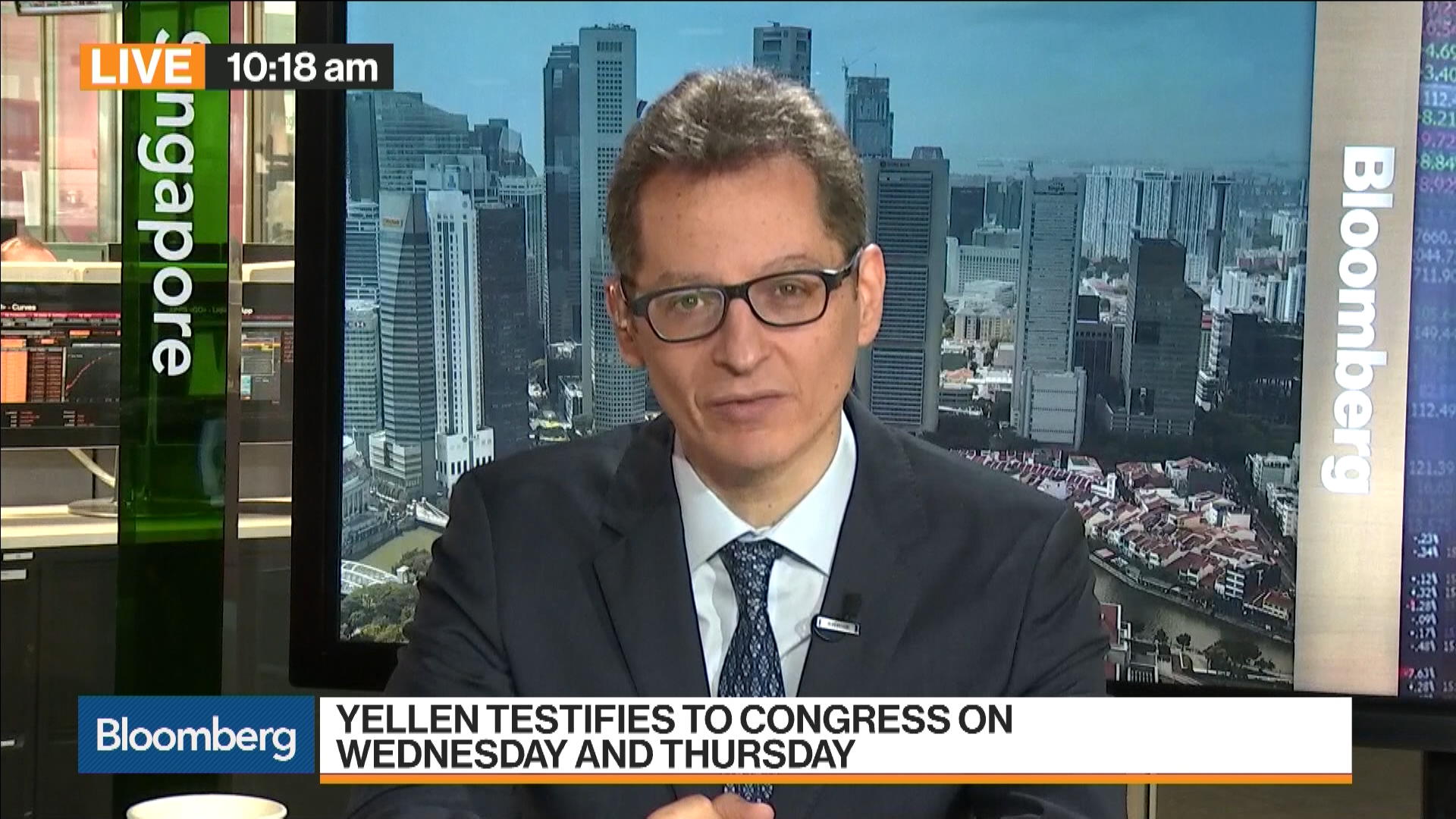 For investors, there's only one mid-year market outlook that matters this week: Janet Yellen's.
And it's not her thoughts on the prospect for inflation or labor-market tightness they'll be most attuned to. Instead, strategists will focus on any sign the Federal Reserve's determined to step into a fight against inflation in financial assets, the one place it seems to be rising fastest.
It's a shift for Fed watchers as the central bank chair prepares to testify to Congress Wednesday and Thursday, just a week after rhetoric from a trio of officials including Yellen suggested the Fed's growing uncomfortable with elevated equity valuations and persistently low Treasury yields.
Indeed, indexes which track the dollar, Treasury yields, credit spreads and stock prices imply that financial conditions have largely eased despite four rate hikes since December 2015. For markets, the main near-term risk is that Yellen explicitly signals unease with the loosening, unleashing a wave of risk aversion in markets.
A central bank intent on tightening financial conditions "would imply higher volatility, lower equities, higher real rates and wider credit spreads," wrote Deutsche Bank AG fixed income strategists led by Francis Yared. "Central banks are short financial conditions." 

The focus on asset prices hints at a fresh rationale behind the Fed's insistence on moving forward with its tightening cycle in the face of still-sluggish price pressures -- a desire to avoid repeats of the financial excesses that developed during the dot-com and housing bubbles, and the busts that followed.
Charles Himmelberg, co-chief markets economist at Goldman Sachs, has long been a proponent of the idea that the central bank will be there to throw cold water on any signs of overheating financial markets during this tightening cycle.
Coming into 2017, he reiterated his view that the classic "Fed Put" that suggests the central bank will prop up asset prices had been replaced by the "Yellen Call" -- that is, easing of financial conditions would be met with a more aggressive withdrawal of monetary stimulus.
In his reading, such a reaction from the Fed would be warranted to prevent an overheating of the economy, but so far his prediction hasn't materialized. 
"With financial conditions this easy, if you don't turn around the trend you're setting yourself up for too much growth," said Himmelberg in a phone interview. "But the market still wants to rally, I think, and it will take harsher language from the Fed to knock this off."
While recent Fedspeak has been decidedly hawkish -- Vice Chair Stanley Fischer highlighted a "notable uptick in risk appetites," San Francisco Fed President John Williams bluntly said the stock market "seems to be running very much on fumes," and Yellen said some asset prices had become "somewhat rich" -- assets have shown little reaction. U.S. stocks are withing striking distance of all-time highs, and while yields have risen, they are only at levels last seen in May.
This has implications for real economic activity. The wealth effect from higher stock prices is said to support consumer spending; shrinking credit spreads can make it more attractive for American businesses to take on debt to expand their operations, and a softer U.S. dollar makes goods and services produced domestically less expensive for foreign buyers.
The Bank for International Settlements judged financial instability to be a bigger threat to the current expansion than a rapid uptick in inflation that forces monetary policymakers to accelerate tightening until an economic downturn ensues.
Whether the Federal Reserve shares that view -- and, more importantly, is willing to act upon it -- is an open question. Financial conditions are a factor taken into account when formulating policy, but it's unclear whether Fed officials view tighter financial conditions as the desired end, and rate increases as the means to achieve this. 
Yellen, for her part, explicitly said at the press conference following the June meeting that the Fed doesn't target financial conditions; New York Fed President Bill Dudley, however, has deemed tighter financial conditions to be "sort of the purpose of tightening monetary policy."
Morgan Stanley global head of interest rate strategy Matthew Hornbach cautions that while financial conditions indexes are "pretty bad at predicting future growth," they "remain a focus at the Fed, and the fact remains they have not tightened."
Before it's here, it's on the Bloomberg Terminal.
LEARN MORE