House Republicans Reject Trump's Bid to Slash EPA's Funding
By
GOP budget measure would trim EPA funding by 6.5 percent

Trump's spending plan had called for 31 percent reduction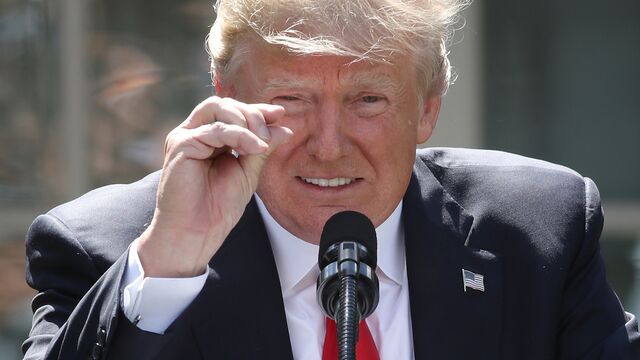 House Republicans rejected Donald Trump's steep budgets cuts for the Environmental Protection Agency as members of the president's party instead offered a trim in spending for the environmental regulator.
The White House had proposed a record 31 percent cut to the agency's roughly $8 billion budget, telling lawmakers it wanted to cut 3,200 jobs and shrink or eliminate a wide swath of programs, including those aimed cutting lead poisoning and improving the health of the Great Lakes. Instead, congressional appropriators released a bill Tuesday that would slice the agency's budget by 6.5 percent to $7.5 billion. 
While the overall fate of spending bills in Congress is unclear, GOP Senators have also indicated they won't go along with Trump's plan. The House bill is scheduled to be considered by a panel of the Appropriations Committee Wednesday, the first formal step of many before it could make it to the president's desk for signature.
"Trump's proposed budget was a fantasy. It is hard to imagine that many sane lawmakers could support it," said Frank O'Donnell, president of Clean Air Watch. "Trump is so weakened politically that he has no political capital to use on this issue."
The $31.4 billion bill also includes more modest reductions in spending for the Interior Department, which runs the national parks, protects endangered species and plays a primary role in permitting oil, gas and coal development on federal lands and waters.
House Republicans are drafting a set of spending bills that largely rejects Trump's overall call for $54 billion in domestic agency cuts, while they propose giving nearly $20 billion more to the military than Trump requested. Lawmakers of both parties had already warned EPA Administrator Scott Pruitt that the administration's plans for the agency weren't going to stick.
Read More: Trump Spurs Bipartisanship as Lawmakers Vow to Stop His EPA Cuts
"These are all proposals we are unlikely to retain," Representative Ken Calvert, the Republican chairman of the House Appropriations subcommittee in charge of the agency's budget, told Pruitt at an earlier budget hearing.
The bill would still provide funds to help the administration offer buyouts to EPA employees and "reflects the administration's goal to rein in outdated, unnecessary and potentially harmful regulations at the EPA," the committee said in a statement.
Separately, an appropriations bill funding the Energy Department acquiesces to Trump's call the kill off the agency's experimental research arm known as ARPA-E, and takes steps to eliminate the agency's loan guarantee program. The bill, slated for a key committee vote Wednesday, also slashes funding for renewable energy and energy efficiency by almost $1 billion, though that's still nearly $500 million more than what Trump proposed.
— With assistance by Erik Wasson
Before it's here, it's on the Bloomberg Terminal.
LEARN MORE