Five Things You Need to Know to Start Your Day
Get caught up on what's moving markets.
By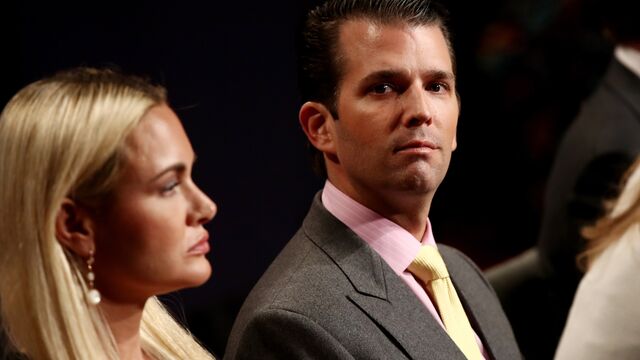 Want to receive this post in your inbox every morning? Sign up here
Trump campaign's own email scandal, Goldman's oil warning and doubts cast on U.S.-U.K. post-Brexit trade deal. Here are some of the things people in markets are talking about today.
But his emails
A lawyer acting for President Donald Trump's eldest son acknowledged last night that Trump Jr. received an email offering a meeting with someone who had potentially damaging information on Hillary Clinton, with the New York Times reporting that the email said that the information was coming as part of a Russian government effort to help his father's White House bid. The president's son-in-law Jared Kushner is also likely to face questions after he was involved in advising the president on policy towards Qatar soon after talks on a Qatari $500 million investment stalled. 
Oil warning
Goldman Sachs Group Inc. is warning that oil could fall below $40 a barrel if there is no move from the Organization of Petroleum Exporting Countries to increase output cuts. The bank, which recently admitted it had misjudged the commodities market this year, last month cut its end-of-year price target for crude by $7.50 to $47.50. A barrel of West Texas Intermediate for August delivery was trading at $42.25 at 5:30 a.m. Eastern Time. 
Deal or no deal?
Business leaders in the U.K. are warning that a promised post-Brexit trade deal between Britain and the U.S. will prove hard to deliver, with America's vastly greater leverage and experience in negotiating such deals likely to force Prime Minister Theresa May to make difficult compromises. Any deal will have an awkward starting point with national statistical agencies reporting that each currently runs a trade surplus with the other. In the U.K., sentiment among financial firms fell in the three months to June, the fifth drop in the last six quarters. There was one bright note for the economy as retail sales in Britain rebounded 2.1 percent in the second quarter, according to data from the British Retail Consortium.
Markets mixed
Overnight, the MSCI Asia Pacific Index added 0.7 percent, with Japan's Topix index rising by the same amount as a rally in technology shares helped propel the gauge to the highest level since August 2015. In Europe, the Stoxx 600 Index was 0.2 percent lower at 5:40 a.m. with defensive sectors leading the declines. S&P 500 futures were flat.
China liquidity
The People's Bank of China is showing signs that it is are ready to start pumping liquidity back into the country's financial system after the central bank conducted the first open-market operation in 13 days overnight. With 459.5 billion yuan ($67.6 billion) of funds issued via reverse-repurchase agreements and the PBOC's medium-term lending facility coming due this week, government and policy banks are set to issue almost 500 billion yuan of bonds by Friday. With companies hoarding cash due to tax payments at the end of this month, the extra liquidity will probably be needed. In an unusual development, Taobao, the country's largest e-commerce platform owned by Alibaba Group Holding Ltd., is offering non-performing loans for sale to the highest bidder along side everything from food to electronics. 
What we've been reading
This is what's caught our eye over the last 24 hours.
Before it's here, it's on the Bloomberg Terminal.
LEARN MORE