business
Berkshire's Oncor Bid Is $300 Million Short, Elliott Management Says
By and
Elliott may walk away if Berkshire raised its offer: Oncor CEO

Elliott has argued that Berkshire is under-valuing Oncor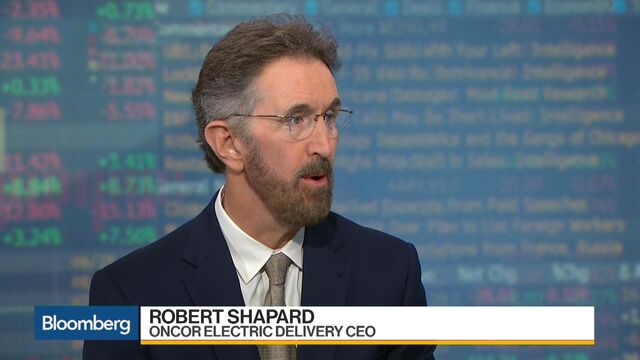 What might it take to end the escalating fight between Warren Buffett's Berkshire Hathaway Inc. and Paul Singer's Elliott Management Corp. over the takeover of a Texas utility?
According to the chief executive officer of that utility, Oncor Electric Delivery Co.: $300 million.
If Berkshire raised its offer to buy Oncor by $300 million, Elliott has "suggested that they'd take the money and go away," CEO Bob Shapard said Tuesday. "It's not that big of a number. And that doesn't necessarily mean that Berkshire should make it up. It just means it's not that big of a number."
Berkshire touched off a dispute with Singer's Elliott last week after agreeing to buy Oncor in a deal valued at as much as $18.25 billion. Elliott, the largest creditor of Oncor's bankrupt parent, Energy Future Holdings Corp., argued that Oncor's worth more than Berkshire's offering and proposed a transaction that'd value the state's largest transmission operator at $18.5 billion. The fund declined to respond specifically to Shapard's comments.
The clash between Berkshire and Elliott is only the latest development in the saga that is Oncor's takeover. While the sale is key to ending the bankruptcy of Energy Future that began in 2014, Texas regulators have rebuffed two prior attempts to buy the utility by NextEra Energy Inc. and Hunt Consolidated Inc. Berkshire will be the third to come before them seeking approval.
At this point, Oncor is "full speed ahead on the Berkshire deal," Shapard said in an interview at Bloomberg's headquarters in New York, adding that the company has seen "no details" of Elliott's proposal. "Berkshire is a great fit for us just because of the business we run. It's got strong growth, it's got good cash flows and it's got a strong reinvestment opportunity. If you read their criteria, that's very important to them."
When asked whether he thought Berkshire would raise its bid, Shapard said: "I haven't got a clue." If the would-be buyer doesn't, Elliott has suggested it'd pursue "an equitization so they'd get the stock," he said, "so it's either or."
'Superior Value'
He added that the bankruptcy judge reviewing Berkshire's takeover would have to consider not only price but certainty for any deal. "What Elliott would have to do is not only show they have superior value, but they can get a deal closed," Shapard said. 
Getting a higher price is important to Elliott because it would get the "lion's share" of any increase, Shapard said. The Berkshire offer would pay secured creditors in full but not unsecured debt -- of which Elliott owns about 70 percent, he said.
In fact, Elliott said Energy Future's unsecured noteholders may only stand to recoup a quarter of what they're owed under the Berkshire deal.
Meanwhile, the costs of Energy Future's bankruptcy case are ballooning, now totaling more than $1 billion in professional fees alone plus interest, expenses that may weigh in the judge's deliberations, according to Shapard. A schedule for court approval of the Berkshire offer will be discussed at a hearing scheduled for Wednesday, he said.
'Really Expensive'
"This thing is getting really expensive," Shapard said. "If we go through another six-month process in Austin that fails, the next time we come back, we could be talking about impairing the secured lenders."
While Elliott could use rights as a debt-holder to block approval of the Berkshire deal in court, the fund has said it's "entirely supportive" of a deal with Berkshire, or another buyer, at the right price.
For a look at how Oncor has left Warren Buffett in a spot he prefers to avoid, read this story.
Berkshire has meanwhile wasted no time trying to win over Texas regulators. The company has made more than 40 commitments, promising to preserve ring-fencing measures that would protect Oncor's independent board and its right to determine dividends. Two prior bidders had rejected ring-fencing, leading the state Public Utility Commission to reject the offers, Shapard said.
"They actually went to Texas first, and that was the distinction," Shapard said. "Berkshire Hathaway actually worked with the state of Texas and said 'We'll do it your way.'"
Elliott said Tuesday it has also agreed to ring-fencing, but another obstacle may stand in its way of gaining Texas's approval.
In January, Elliott disclosed a partnership with Bluescape Resources, led by turnaround titan C. John Wilder, that took an activist stake in U.S. power generator NRG Energy Inc. Perhaps not coincidentally, Wilder was chief executive officer of TXU Corp. when KKR & Co., TPG Capital and Goldman Sachs Capital Partners pulled off the biggest leveraged buyout in history and renamed the company Energy Future.
That connection could make Texas regulators hesitant about entertaining a bid involving Elliott, according to Bloomberg Intelligence utilities analyst Stacy Nemeroff.
— With assistance by Sridhar Natarajan, Alix Steel, David Westin, and Jodi Xu Klein
Before it's here, it's on the Bloomberg Terminal.
LEARN MORE