Christie's 'Enforcer' Should Avoid Prison in Bridgegate, Prosecutors Say
By
Wildstein told jury about punishing mayor over politics

Former Christie allies Kelly, Baroni got prison sentences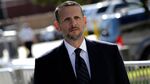 The mastermind of the George Washington Bridge lane-closing plot joined prosecutors in urging a judge to spare him prison because he provided "extraordinary" cooperation against two former allies of New Jersey Governor Chris Christie who were convicted of crimes linked to the scheme.
David Wildstein faces as long as 27 months in prison when he is sentenced Wednesday under a plea bargain. But he should get no jail time because of his help to investigators after he pleaded guilty, prosecutors said in a filing in federal court in Newark, New Jersey. Wildstein was considered Christie's "enforcer" at the Port Authority of New York & New Jersey, which operates the bridge. His lawyer also asked the judge to impose a probationary term.
Wildstein, a lifelong practitioner of political dirty tricks, testified for eight days at the trial of Bill Baroni and Bridget Anne Kelly. They were convicted last year of conspiring with Wildstein to close local access lanes to the bridge and create gridlock as political payback for the Democratic mayor of Fort Lee, who didn't endorse Christie's 2013 re-election bid.
Earlier this year, Baroni was sentenced to two years in prison, and Kelly got 18 months. Christie wasn't charged in the case and denied any knowledge of the lane closings.
"Were it not for Wildstein's decision to cooperate and disclose the true nature of the lane reductions, there likely would have been no prosecutions related to the bridge scheme," prosecutors wrote.
Read More: Judge Slams Christie Political Culture as Aides Sent to Jail
Prosecutors said the scheme, known as Bridgegate, was "one of the more brazen public corruption schemes" in New Jersey history. In January 2014, the scandal mushroomed after publication of Kelly's email, "Time for some traffic problems in Fort Lee." Fallout from the scandal helped to sink the presidential ambitions of Christie, a Republican who was once considered a leading candidate for the GOP nomination for president. 
Under Christie's watch, New Jersey has been beset with credit downgrades and deteriorating infrastructure. This month, he was lambasted for lounging on a closed state-run beach with his family during a government shutdown while lawmakers failed to approve a budget for fiscal 2018. His latest approval rating sank to 15 percent.
In their sentencing recommendation to U.S. District Judge Susan Wigenton, prosecutors said Wildstein's testimony at the trial was "honest, forthright and corroborated" by numerous records, even as he withstood intensive cross-examination. They asked the judge to impose "a non-custodial sentence" for his crimes.
A 2013 Traffic Jam That Still Dogs Chris Christie: QuickTake Q&A
Wildstein, 55, told jurors about how he and Baroni abided by the "one-constituent rule" of serving Christie above all else. They also dispensed gifts and favors from the Port Authority's "goody bag" to curry political endorsements, he said. Former Port Authority Commissioner Scott Rechler told jurors that Wildstein was a "cancer" at the agency, intimidating employees and creating a culture of fear.
In his filing on Tuesday, Wildstein attorney Alan Zegas said his client wasn't a lone wolf and was "closely supervised" by Christie's office. He dealt directly with the governor, who set the tone, Zegas said.
Zegas said Wildstein has sought to recast his life by taking an online writing certificate program at the University of California, Los Angeles. He said his client is writing a book with former New York Yankee Fritz Peterson about the 1970 season. Wildstein also is helping another former Yankee, Charlie Hayes, run a non-profit baseball academy.
Before it's here, it's on the Bloomberg Terminal.
LEARN MORE