Bulgarian President Accuses Cabinet of Delaying Defense Deals
By
Parliament commitee to examine deal to purchase Saab jets

Radev says he sees a desire 'not to complete' the deal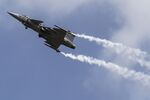 Bulgarian President Rumen Radev accused the government of delaying military procurement as the Balkan nation seeks to upgrade its capabilities to meet NATO standards.
Radev complained of a lack of progress and clarity on the defense-modernization projects, which include the planned purchase of Gripen fighter jets from Saab AB for as much as 1.5 billion lev ($874 million). The cabinet will await the conclusions of a parliamentary committee that's looking into the selection process for the aircraft, a Defense Ministry official, who asked not to be named in accordance with ministry policy, said Tuesday by phone.
"I see a desire to postpone them, not complete them," Radev, a former Air Force chief, said late Monday in a statement on his website, referring to the procurement projects. He described the administration's work on the deals as "total chaos."
The Black Sea country, which joined the North Atlantic Treaty Organization in 2004, wants to replace its outdated Soviet-era aircraft, warships and armed vehicles amid calls from U.S. President Donald Trump for members of the alliance to meet their spending commitments. Countries such as Lithuania and Romania have already announced increases in expenditure.
Saab's offer was picked by the interim government that preceded the current administration of Prime Minister Boyko Borissov. He took power in May and has the final decision on the purchase. Borissov's cabinet plans to spend as much as 3.54 billion lev on overhauling the military by 2029.
Before it's here, it's on the Bloomberg Terminal.
LEARN MORE