business
Brexit's Squeeze on Real Wages Is Holding Back the U.K. Economy
By
S&P expects U.K. slower GDP growth between 2017 and 2020

S&P doesn't see a Bank of England rate hike before mid-2019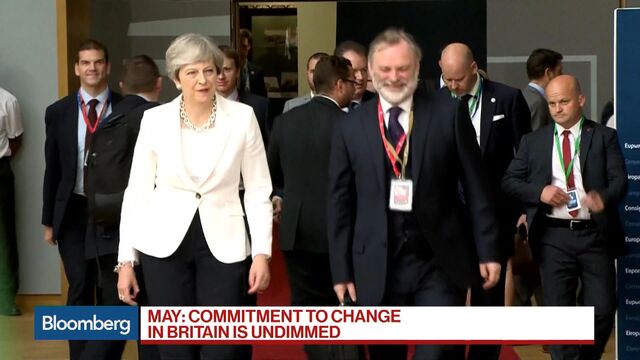 Brexit uncertainties are already slowing U.K. economic growth, a report by S&P Global Ratings said.
Household budgets are feeling the pinch as the boost to exports from the weak pound is unlikely to compensate for higher inflation from imports. S&P forecasts GDP growth of just 1.4 percent this year, 0.9 percent in 2018 and 1.4 percent in 2019-2020.
Uncertainty over the Brexit negotiations -- in particular, the "divorce" settlement taking too much time before the U.K.'s future relationship with the EU is addressed -- is a considerable risk to growth, the report said. 
"Should the separation negotiations stall, there would be less time left for negotiating the future trade relationship, risking a cliff edge," S&P said in a statement.
As speculation over the Bank of England's stance on rates mounts ahead of its August meeting, S&P predicts there will be no hike before mid-2019. It cited demand weakness, the temporary nature of imported inflation, moderate domestic wage pressures and Brexit as reasons for the Bank of England to keep its current "ultra-accommodative stance." 
"Whether the Bank of England raises interest rates in response or not, the impact on growth would be detrimental because both higher interest rates and untamed inflation would depress economic activity," S&P said.
Before it's here, it's on the Bloomberg Terminal.
LEARN MORE