markets
The Bank of Canada Is About to Test Central Bank Convergence
By and
Forwards imply only Fed, BoC will be far away from zero bound

BoC's hawkish lurch has market pricing rate hike Wednesday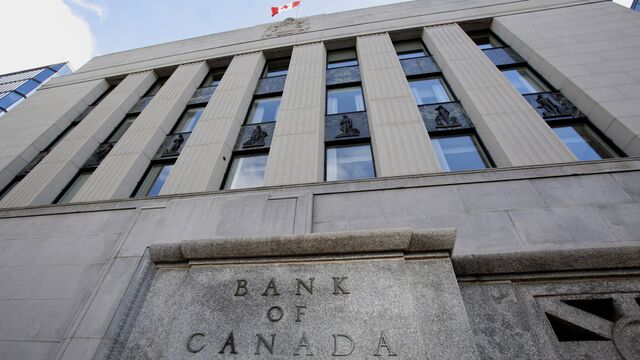 In the race to escape from ZIRP, North American central bankers are leading the way.
A rapid repricing of monetary policy paths has markets seeing a Bank of Canada that's moved rates nearly just as far away from zero as the Federal Reserve by this time next year, with other major central banks such as the Bank of England lagging far behind. That's in stark contrast to before the U.K. referendum, when forwards implied a similar year-ahead policy rate for the two central banks led by Canadians.

The Bank's abrupt shift in rhetoric didn't rock longer-term rates globally, like European Central Bank President Mario Draghi's remarks did. But Canadian central bankers were at the leading edge of what would become a chorus of global central bankers singing a hawkish hymn at the ECB's forum in Sintra, Portugal that's changed the conversation from central bank divergence to convergence. On Wednesday, the Bank of Canada could be the first central bank to make a concrete step in the direction of synchronized tightening when officials release their Monetary Policy Report and interest rate decision in Ottawa.
Communications Timeline
But just one month ago there wasn't a single analyst surveyed calling for a July hike. And why would they have been?
In January, the Canadian central bank said a rate cut was still on the table. 
In March, monetary policy makers emphasized that Canada had a "lot more room to grow" than the U.S. 
In April, they assumed a "decidedly neutral" stance. 
The following month, during a speech in Mexico, Governor Stephen Poloz cited the downward trend in core inflation measures as one of the reasons why the central bank remained on hold despite the start of a tightening cycle stateside.
Since that speech, core inflation measures have proceeded to slide, belied by measures of real activity that have come in slightly stronger than anticipated.
One-Two Punch
Then in June, exactly one month away from the Bank's next decision, the nation's top monetary policy makers briskly laid the foundation for an imminent interest rate hike with a one-two punch. First, Senior Deputy Governor Carolyn Wilkins indicated the Bank would be "assessing whether all of the considerable monetary policy stimulus presently in place is still required;" the following day, Poloz added that the rate reductions in 2015 had "done their job."
These remarks fueled the biggest two-session increase in the Canadian two-year yield since former Governor Mark Carney last tightened policy at the central bank in 2010.

In a pair of other interviews over the past month, the governor made the case for hiking despite sluggish core inflation by acknowledging it provides poor contemporaneous corroboration for a central bank's current policy stance.
"If we only watched inflation and reacted to inflation, we would never reach our inflation target, we'd always be two years behind in the reaction," he said in remarks published by the German newspaper Handelsblatt.
Odds Shocker
The subsequent increase in market odds of a hike -- to about 90 percent -- has shocked some observers, like TD Securities chief Canada macro strategist Fred Demers, who noted that the central bank's escalation from April to July would seem "like quite a macroeconomic leap no matter how well the growth outlook has played out."
But with these relatively straight communications comes great responsibility for the Bank of Canada: inaction could sow the seeds for a reversal of the global bond selloff that they helped nurture should market participants question central banks' willingness to deliver upon the convergence narrative they established in Sintra.
'Higher Path'
"In our view, the challenge will be in gradually easing economic and market agents into a continuous higher rate path while not spooking either housing or the Canadian dollar enough to do further damage," writes Frances Donald, senior economist at Manulife Asset Management. "In other words, the Bank of Canada needs to avoid a situation in which markets anticipate more rate hikes than the central bank is currently prepared to implement."
Wednesday offers an opportunity for the Bank of Canada to put its shift in perspective, and perhaps push back against expectations that its policy rate will be above 1 percent a year down the road, as forward markets currently imply.
Even these recent hawkish communiqués framed any potential rate move as the cancellation of an insurance policy taken out in 2015 to deal with the oil shock, while noting that non-energy export growth remains underwhelming. In fact, volumes are still below levels that prevailed in July 2015, the last time the central bank lowered rates.
A byproduct of being the first major central bank to follow the Fed -- and perhaps even exceed it -- in moving meaningfully away from the zero lower bound would be associated with continued strength in the Canadian dollar. And that won't help grease the wheels for a rotation of growth towards exports that the central bank has long desired.
Before it's here, it's on the Bloomberg Terminal.
LEARN MORE