Balance of Power: Trump Jr.'s Russian Jeopardy
By and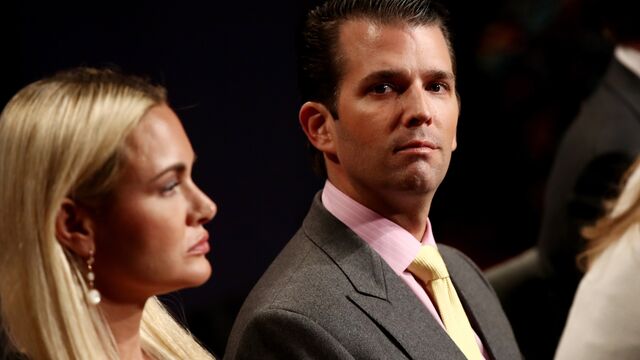 Another day, another revelation draws Donald Trump's son and namesake deeper into the Russian intrigue that has consumed so much of this presidency.
The latest disclosure - that Donald Trump Jr. received an email last year telling him of the Russian government's desire to help his father win - was reported yesterday by the New York Times. The message, from a publicist acquaintance of the Trump scion, led to a June 2016 meeting with a Russian lawyer claiming to have dirt on Hillary Clinton. 
While the email offers no link to the hacking of the Democratic National Committee that's at the heart of the scandal, it could provide the first evidence that Trump's inner circle knew of Moscow's attempts to sway the election. The meeting was also attended by the president's son-in-law, Jared Kushner, and then-campaign Chairman Paul Manafort.
Donald Trump Jr.'s lawyer called it "much ado about nothing," saying no information was exchanged.
Still, the president's oldest son may find himself in legal jeopardy as the Justice Department and Congress probe whether Trump associates colluded with the Russians. He'll almost certainly be called before Congress to testify.
Sign up to receive the Balance of Power newsletter in your inbox, and follow Bloomberg Politics on Twitter and Facebook for more.

Global Headlines
Kushner and the Qataris | Trump's son-in-law faces his own questions about a potential conflict of interest after his family's real-estate firm sought a $500 million investment from one of Qatar's most politically influential figures. Since those talks collapsed, Qatar has been isolated by its neighbors, with President Trump's encouragement, as punishment for supporting groups like the Muslim Brotherhood. Secretary of State Rex Tillerson is in the region this week to seek a solution to the standoff his boss helped foster.
Obamacare repeal | The glare of the spotlight on Trump's inner circle could overshadow plans by Senate Republicans to unveil a revised health-care bill this week after holdouts threatened to torpedo the seven-year-long effort to kill Obamacare. Changes may include keeping taxes on the wealthy, pulling back from Medicare cuts and adding more spending to stabilize the individual insurance market. There's little time before Congress's August break.
Trump judiciary push | While Trump has hit speed bumps ranging from legislative setbacks to the Russia probe, he's got a big opportunity to reshape a branch of government that's caused him angst: the federal judiciary. His focus is on the 136 vacancies in lower courts that he inherited or that have opened since his inauguration. Some of Trump's first picks are heading for a committee vote in the Senate this month.

May's majority narrows | U.K. Prime Minister Theresa May suspended a Conservative lawmaker for using racist language to describe a no-deal scenario on Brexit. The timing couldn't have been worse, because today she'll hit reset on her premiership with a speech on how all parties must work together to make the EU divorce succeed. With her already razor-thin parliamentary majority diminished, her call may fall on deaf ears.
The Great Firewall grows higher | China is closing one of the few remaining avenues to skirt its censors, ordering telecom providers to deny individuals access to "virtual private networks" by February, according to people familiar. China has one of the world's most restrictive internet regimes as regulators seek to preserve social stability. Multinationals operating in China will be able to employ leased lines to access the global web, but must register their use of such services.
China seeks to rein in financial risk | Authorities may give the central bank a key role in coordinating financial oversight as they seek to shield the economy from threats in the banking system, people familiar say. The move will be debated at a party conclave on financial policies this week as the Communist Party looks to ensure stability before its leadership shuffle late this year.
And finally... Queen Elizabeth II is preparing to honor Spain's Felipe VI in London tomorrow with the full pomp and ceremony of a state visit, part of the effort to shore up the U.K.'s status before it leaves the EU. But diplomats' talk of 500 years of partnership may be stretching things, as Charles Penty reports. After all, it's only 429 years since Spain, then the world's most powerful nation, sent its Invincible Armada on the ill-fated mission to conquer Britain. And the two countries spent much of the 18th century at war.

Before it's here, it's on the Bloomberg Terminal.
LEARN MORE