charted
The Oil Slump Is Killing Off Old Fields
Output from all fields declines over time. As low prices curtail investment, that rate now is the highest level in decades.
By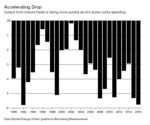 Crude's three-year slump is hurting older fields, which supply a third of the world's oil, with output falling at the fastest pace in almost a quarter century, according to consultant Rystad Energy AS. That rate is likely is stay high this year, helping the Organization of Petroleum Exporting Countries' effort to curb a global supply glut, but also threatening to hurt the industry if the current surplus turns to shortage in the longer term. Still, the world's biggest oil companies, stung by continuing low prices, are keeping a tight grip on budgets.
Before it's here, it's on the Bloomberg Terminal.
LEARN MORE