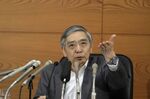 The Bank of Japan is playing with fire, making the yen as volatile as the nation's volcanoes. 

In theory, rising U.S. Treasury yields weaken the yen against the dollar, which is good news for Japan's export-oriented economy. However, the theory goes, the party only lasts so long as the BOJ keeps the 10-year benchmark yield around zero percent.
And that is exactly what the central bank tried to do on Friday. For the third time since last September, the officials offered to buy an unlimited amount of bonds, pushing down the 10-year yield from a five-month high of 0.105 percent.
This was all in line with Governor Haruhiko Kuroda's policy to control yields, which currency traders interpret as a promise to keep to a range of minus 0.1 percent to 0.1 percent.
But artificially pushing down Japan's interest rates while the rest of the world is going the other way is not necessarily good news for stocks.
For starters, about 30 percent of companies on the Topix index are owned by foreign institutional investors. A weaker yen eats into foreigners' capital gains, while volatility makes hedging a necessary chore. 

And not to mention Japan's financial sector, which still occupies 13 percent of the Topix. Every time the BOJ pushes down the 10-year yield, bank stocks tumble. 
With such a volatile currency, how can companies plan their fiscal year ahead? Estimates vary widely. The yen will trade anywhere from 100 to 120 per dollar over the next year, according to a recent Toyo Keizai survey of 257 companies. Over 40 percent see a range of 100-109 in the period, while the rest say it will be weaker than 109. It currently trades at 114 per dollar.
It's also unclear how much a weaker currency can help boost Japan's exports. A 10-yen depreciation against the dollar is an 8.8 percent loss, which should equate to an 8.8 percent gain in corporate pretax profit. But according to Nicholas Smith, a strategist at CLSA, these days a 10-yen drop gives Japanese companies a pretax boost of just 5.6 percent. 
Plus, the BOJ's power to control the currency pales in comparison to the strength of global forces. While officials have an easier ride if U.S. and German bond yields are on a slow ascent, traders will still flee to the yen for safety whenever there are bond routs, missile launches, or anything that startles the markets. 
The market reaction to Friday's move says it all. The 10-year yield has bounced back up to 0.091 percent from 0.082 percent on Friday. 
A country's currency is normally dictated by the health of its balance sheet and the economy. But Japan's has become the subject of a big central bank experiment. So far this has not worked well. Instead of making it weaker, officials have only made it more volatile. The BOJ needs to leave the yen alone.
Before it's here, it's on the Bloomberg Terminal.
LEARN MORE