business
Sweden Will Review EU Banking Union as Nordea Still Silent on HQ
By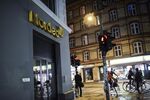 Sweden is planning to review the effects of the European banking union on its finance industry amid threats by its largest bank to leave for a country with less strict regulation.
Financial Markets Minister Per Bolund said in an interview with news agency TT that the government plans a "thorough" analysis, in part because of the U.K.'s planned exit from the European Union. The review could lead to Sweden joining the union, he said. Bolund's spokeswoman, Anna Soderstrom, confirmed the comments.
The move comes as Nordea Bank AB, Scandinavia's largest lender and its only global systemically important one, has threatened to move out of the country and after neighbor Denmark started a review on joining the union in a bid to make itself more attractive.
Nordea Chief Executive Officer Casper von Koskull said last week that the Stockholm-based lender may be better served by aligning itself more closely with Europe, specifically by being located in a country that's a member of the banking union.
Nordea is considering both Denmark and Finland. Governments in those countries say the bank is welcome. Finland is already member of the banking union. Denmark earlier this month set up a committee to review participation for a second time; a 2015 report recommended Denmark join.
Regulations in the Nordic region are generally stricter, helping ensure high credit ratings for its banks, S&P Global Ratings said in a report Monday. The ratings company said in the future regulations are likely to converge somewhat, but economic risks including high household debt mean Scandinavian supervisors will probably continue to be tougher.
Before it's here, it's on the Bloomberg Terminal.
LEARN MORE