Australia's Central Bank Uses Obscure Rule to Justify Rate Stance
By
Central bank uses public interest rule to justify rate stance

Markets, most economists agree that easing cycle is over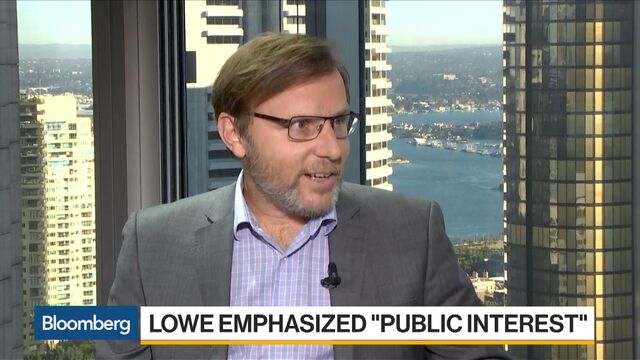 Start your day with what's moving markets in Asia. Sign up here to receive our newsletter.
Australia's central bank is relying on an obscure piece of legislation dating back to World War II to justify keeping interest rates steady: its rarely-discussed third objective of monetary policy.
Traditionally, the Reserve Bank of Australia is seen as having a dual mandate of maintaining stability of the currency and full employment. Both goals support its aim to control inflation over the medium-term.
But there's another goal that's lesser known and somewhat less defined: the economic prosperity and welfare of the people of Australia. That's allowed the central bank to keep the benchmark rate at a record low 1.5 percent for 11 months as it weighs the impact of a rate move on a financially-stretched population against an array of mixed economic signals.
Both hawks and doves are being kept at bay. Just four of 24 economists think the RBA will cut rates again, citing stagnant wages, record-high household debt and declining savings. Seven predict a hike -- reflecting expectations of wages and inflation returning to normal in a strengthening economy. But most reckon rates will be on hold this year and next, while market bets on cuts have faded.
The RBA's third objective "gives quite a lot of wiggle room" to policy makers, said John Edwards, an economist and visiting fellow at the Lowy Institute for International Policy who served on the central bank's board until last July. "It's a sort of a fallback."
Robert Mead, managing director at Pacific Investment Management Co. in Sydney, said this week that the relatively tepid state of Australia's domestic economy should ensure any RBA rate hikes are delayed well into 2018.

Governor Philip Lowe first appeared to invoke the third objective when fronting a parliamentary panel just four days into his tenure last September, and again during his second testimony in February. He asked rhetorically at both hearings whether it was in the national interest or "within our broader responsibility to promote the interests of the Australian people" to reduce rates further. 
His answer: while cutting might deliver a bit more employment growth or return inflation to target a little faster, it could further build up vulnerabilities -- Australians' private borrowings have since climbed to a record 190 percent of their income. Lowe acknowledged that some people disagreed with this view, including members of his own staff.
No Nutters
Lowe said his colleagues weren't "inflation nutters" who respond mechanically to consumer price weakness by hitting the stimulus button without thinking of the consequences. Underscoring this, he lifted the importance of financial stability in his agreement with the treasurer and tweaked the goal of averaging inflation at between 2 percent and 3 percent to "over time" from "over the cycle," allowing himself a bit more flexibility.
"It's been a pragmatic bank," said Stephen Bell of the University of Queensland and author of "Australia's Money Mandarins: The Reserve Bank and the Politics of Money." "The RBA used to get bashed internationally for being a bit dovish, a bit flaccid because of the employment mandate. But as it turned out the RBA model has actually won the day -- the hawkish model is not seen as flexible enough."
The central bank is currently forecasting inflation will return to the midpoint of its target in June 2019. But that's a long way off. And while headline inflation had been steadily rising in response to higher oil prices, it's now dropping back as they weaken.
Weak Wages
The key swing factor: workers' wages. The RBA expects growth in salaries to remain anemic for a while yet, and then pick up as the economy strengthens, but international experience shows there are no guarantees. Australia's jobless rate of 5.5 percent is above the full employment estimate of 5 percent, which explains a lack of wage growth.
Yet in the U.S., the jobless rate is below full employment, and wage growth still remains tepid -- as it does in the tight labor markets of Germany, U.K. and Japan. So it's possible Australia faces a prolonged period of weak wage gains and, in turn, below-target inflation.
But the risks of cutting rates in response are high. That would fire up already strong home lending rates and spur stratospheric Sydney and Melbourne house prices even higher. Lowe is loath to ease further, and this is where "the economic prosperity and welfare of the people of Australia" comes into play.

The third objective dates back to 1945 and the Commonwealth Bank Act -- referring to the RBA's predecessor -- which formalized the central bank's powers. At the time, debate centered on the goal of full employment. Treasury didn't want to include it, whereas H.C. Coombs, a giant of Australia's bureaucracy who then headed the Department of Postwar Reconstruction, did.
The debate reflected both the Depression era of the 1930s and the full employment idea that animated the postwar period. Coombs won the day: price stability and full employment were both included, as was the third objective. These were then carried over to the 1959 Reserve Bank Act that established the current central bank. Coombs would be its first governor in 1960.
Deciding Factor
"Conflict between the first and second objectives led to the third," said Selwyn Cornish, an economic historian at the Australian National University. "In circumstances where there was a conflict between holding down inflation and maintaining full employment, the deciding factor would be the maintenance of 'the economic prosperity and welfare of the people of Australia'."
While both sides of politics are generally well trained to respect the RBA's independence in upholding its objectives, that hasn't always been the case. 
During Australia's last recession at the start of the 1990s, a conflict erupted over how fast to reduce rates that had reached 18 percent. One group, which included then RBA Governor Bernie Fraser and Treasurer Paul Keating, wanted to do so sharply and quickly to help the economy; others wanted it done slower to cure high inflation, according to Queensland University's Bell.
Lucky Country
The dual objective proved crucial to Fraser, allowing him to tell the board the bank had a responsibility for growth and helping him win the fight, according to Bell. As it turned out, Australia's economy has now enjoyed 26 years of low-inflation growth.
For Bell, the second objective is still the key.
"My reading is the bank's unusual because it's got the full employment bit, and I think the third part is slightly embroidery," he said. "The real thing is the bank is not just an inflation hawk, it's interested in growth and employment."
Saul Eslake, an independent economist who has analyzed Australia's economy for more than three decades, says that Lowe's heightened focus on financial stability in his agreement with the government could be used to account for any reluctance to cut rates.
"Ultimately, both the inflation target and the more recent financial stability objective can be legitimately viewed as important aspects of the pursuit of the 'economic prosperity and welfare of the people of Australia,'" he said.
— With assistance by Garfield Clinton Reynolds
Before it's here, it's on the Bloomberg Terminal.
LEARN MORE