Qatar's Wealth Enough to Weather Any Shock, Central Bank Says
By
Central Bank governor says money inflows bigger than outflows

Qatar has $40 billion in cash reserves plus gold, he says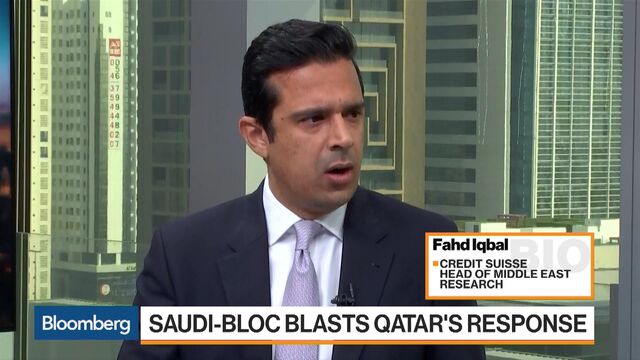 Qatar has enough cash reserves and assets to weather the standoff with the Saudi-led alliance, now in its second month, with inflows into the country still exceeding money heading out, central bank Governor Sheikh Abdullah bin Saoud Al Thani.
Withdrawals from Qatari banks aren't "significant,'' the governor said in remarks published by CNBC on its website.
Saudi Arabia, the United Arab Emirates, Bahrain and Egypt severed diplomatic and transport links with Qatar, the world's biggest exporter of liquefied natural gas, on June 5. The alliance accuses Qatar of destabilizing the region by supporting proxies of Shiite-dominant Iran as well as Sunni extremists, charges the sheikdom has denies.
"We have enough cash to preserve any -- any kind of shock," the governor was quoted as saying. "So we don't believe that there is anything to worry about at this moment. What I can say is that our environment is proof to anybody that we are first of all solid, strong and resilient against any kind of shocks."
Qatar's central bank had $40 billion in cash reserves plus gold and the Qatar Investment Authority has $300 billion, the governor said. The country's oil and gas long-term contracts weren't seeing any disruptions, he said.
Before it's here, it's on the Bloomberg Terminal.
LEARN MORE