Newly Minted Dollar Bears May Be Headed for More Disappointment
By
BNP's Katzive says seasonal factors could stabilize greenback

Hedge funds and speculators most bearish on dollar since 2013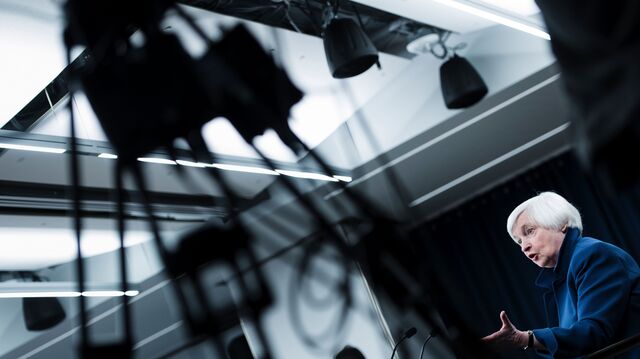 With dollar bearishness again the dominant sentiment in the $5.1 trillion-a-day foreign-exchange market, some analysts are saying not so fast.
"The market's gotten too pessimistic, or not optimistic enough on the dollar," Daniel Katzive, head of FX strategy at BNP Paribas, said in a Bloomberg TV interview Monday. "We've had a terrible first half for the dollar, terrible first half last year -- second halves have been better, and we think that's going to be the case this year."
Hedge funds and other large speculators are now more bearish on the dollar than at any point since 2013, Commodity Futures Trading Commission data released July 7 show. Wagers that the greenback will decline outnumbered bets it'll strengthen by 81,582 contracts, versus 30,037 contracts the previous week. The positioning represents a swing from a net bullish stance of more than 300,000 wagers in January.

Stronger U.S. economic growth could lead to short-term regrets for dollar bears, emboldened by hawkish comments from central bankers in other developed markets, Katzive said.
The five-year average of Citigroup Inc.'s U.S. economic surprise index suggests the same. After declines in the first half, June tends to mark a turn toward better-than-expected data. After the worst start to a year for the greenback since 2006, the currency could use a boost. The dollar index followed the Citi surprise index lower in the first half of 2017, erasing all gains from the so-called Trump bump with a 6.6 percent loss.
Quant Insight, a research firm that develops models to identify the macroeconomic drivers of assets, found that the dollar is a half to one standard deviation cheaper across major currencies than their model value suggests. That could reverse as a "strong seasonal pattern" of positive data in the second half sets in, said Huw Roberts, a member of Quant Insight's currency and rates research team. Disenchanted Trump-trade investors who are now shorting the dollar could be headed for additional disappointment, Roberts said.
"That trade went horribly wrong, and now people have shorted the dollar," said Roberts. "We can see that now you could be reaching a point where you've got a lot of positioning going the wrong way just as the dollar could pick up."

Between improving U.S. data and Federal Reserve Chair Janet Yellen's appearance before Congress on July 12, newly minted bears may be caught off guard, said Credit Agricole SA strategist Valentin Marinov. Should Yellen provide clarity on the central bank's schedule for unwinding its balance sheet, market sentiment may shift in favor of the greenback, he said.
"We may be on the cusp of a shift in market perception for the dollar outlook for the second half," said Marinov. "There's scope for some squeeze of whatever shorts there are in the market."
Before it's here, it's on the Bloomberg Terminal.
LEARN MORE