Kenyan President Draws Judiciary Ire After Faulting Court Ruling
By and
Courts are 'entangle' in attempts to delay vote, Kenyatta says

Chief Justice Maraga insists judiciary is independent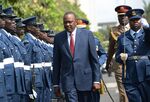 Kenya's President Uhuru Kenyatta drew criticism from the chief justice and the nation's top legal body after he questioned the independence of the judiciary over a court ruling in favor of the main opposition.
Kenyatta on Sunday said the courts were "increasingly getting entangled" in what he said was the opposition's attempts to delay elections scheduled for Aug. 8. Chief Justice David Maraga responded by insisting the judiciary is independent, while the Law Society of Kenya described Kenyatta's comments as "alarming."
"Where the public comments question the independence of the judiciary or threaten judges, they erode the foundation of the administration of justice and threaten the rule of law," the body said in an emailed statement on Monday. "It is most alarming therefore when such comments are made by no less a person than the head of state."
Kenyans go to the polls on Aug. 8 in an election that opinion polls show will need a second round to determine a winner, with Kenyatta and opposition leader Raila Odinga both set to obtain less than 50 percent of the vote. Elections in Kenya are fractious times for investors because of violence that engulfed the nation in three of the past five votes, including after the 2007 election, when two months of fighting left at least 1,100 people dead.
Last week, the High Court ruled in favor of an opposition application to cancel a contract awarded to Dubai-based Al Ghurair Printing & Publishing Ltd. to print presidential ballot papers. Kenya's electoral body awarded the contract to Al Ghurair last month, even after a court ruled in February that a previous award to the company was illegal.
'Unacceptable Affair'
Kenyatta viewed orders being issued by the country's courts as "designed to scuttle the election" and "an unacceptable affair," according to a statement from the presidency. Deputy President William Ruto also challenged the chief justice to explain why he directed the Independent Electoral & Boundaries Commission not to print the ballot papers before the court ruling, a claim Maraga denied.
"At no time did I ask the IEBC not to proceed with ballot printing," Maraga said in an emailed statement. The judiciary will continue determining lawsuits on the basis of the constitution, the law, and evidence before it, he said.
The opposition National Super Alliance rejected Kenyatta's claim it's trying to delay the election and decried his criticism of the judiciary.
"We are astounded by those comments," Salim Lone, an adviser to Odinga, told reporters in Nairobi. Kenyatta's criticism "took us aback and is distressing," he said.
Kenyatta, 55, could win 48 percent of ballots cast in the election, compared with 43 percent for his main challenger Odinga, according to pollster Infotrak.
Before it's here, it's on the Bloomberg Terminal.
LEARN MORE