politics
Kenya Opposition Leader Out of Hospital, Will Undergo More Tests
By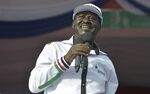 Kenyan opposition presidential candidate, Raila Odinga, was discharged from hospital after receiving treatment for suspected food poisoning at a hospital in the coastal Mombasa city, spokesman Salim Lone said.
The former prime minister was back in the capital, Nairobi, and will undergo further medical tests on Monday before resuming political campaigns ahead of the Aug. 8 elections, Lone said by phone.
"It's possibly food poisoning, dehydration and exhaustion," Lone said. "He is much better now. There is no cause for concern."
Odinga is leading a five-party coalition that's seeking to stop President Uhuru Kenyatta from securing a second term at elections.
Before it's here, it's on the Bloomberg Terminal.
LEARN MORE