business
Golf's New Stars Help Boost a $70 Billion Industry After Tiger
By
The sport drew 2.5 million new players last year after slump

Jordan Spieth and Rickie Fowler help fill void left by Woods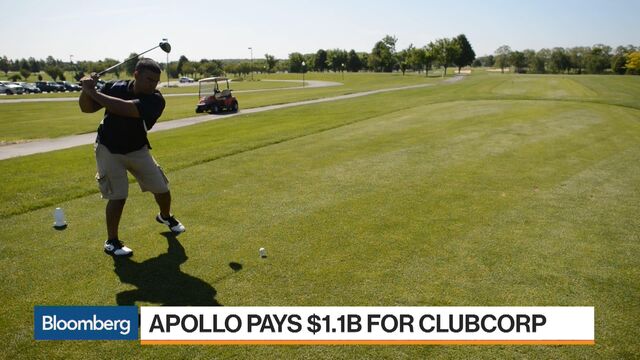 When the career of Tiger Woods began to decline in 2009, he took the fortunes of the golf industry down with him.
The sport's appeal faded among the millennial generation, and the industry found itself with too many greens and not enough players. It hit bottom in the past seven years: Hundreds of courses closed, millions of people left the sport, and bankruptcies rippled through the $70 billion golf world.
Now there are finally signs of an upswing. Apollo Global Management is acquiring country-club operator ClubCorp Holdings Inc. in the industry's biggest takeover in years. New golf personalities are taking the place of Woods, and the sport is looking to attract younger players with Topgolf entertainment venues and other tactics.
The push helped bring 2.5 million new participants to the game last year, the most in more than a decade.
"Golf is in a good place and getting stronger," David Abeles, chief executive officer of golf-equipment maker TaylorMade, said in an interview. "We're optimistic that participation rates will continue to grow as we move forward."
Apollo announced its bet on golf's turnaround on Sunday, when it agreed to buy ClubCorp for $1.1 billion, or $17.12 a share. The private equity firm is scooping up more than 200 golf and country clubs, including marquee courses such as California's Mission Hills and the Woodlands in Texas.
The central thesis of that deal: Golf's core players remain quite loyal to the sport -- and their country-club fees will spin off cash for years to come. ClubCorp, based in Dallas, has more than 430,000 members.
More broadly, golf has seen a resurgence in so-called avid players, those who play at least 25 rounds on a regulation course per year. The number rose to 8.8 million last year, up 400,000 from 2015, according to the National Golf Foundation. Avid players are critical to the health of the sport because they account for 80 percent of industry spending.

During Woods' prime, millions of new players flocked annually to golf -- and the sport seemed poised to shed its country-club image and become more mainstream. But the industry now regards those days as a bubble.
The challenge now is rebuilding with more realistic aspirations.
New stars, such as Jordan Spieth and Rickie Fowler, are helping to attract a younger audience. In 2015, Spieth, who turns 24 later this month, became the second-youngest player, behind Woods, to win the Masters Tournament in Augusta, Georgia. The 28-year-old Fowler, meanwhile, reached No. 4 in the Official World Golf Ranking last year.
The "void has been filled," said Ed Byman, CEO of online retailer GlobalGolf.com. "The industry is in good hands."
Golf courses continue to be closed -- 171 were lost on a net basis last year -- but that may not be a bad thing for the industry overall, said Tom Stine, head of Golf DataTech, a golf retail-tracking firm. The closures are a result of the natural correction in supply and demand from an overhyped era.
Woods' rise also coincided with a real estate boom. When the market imploded -- leading up to the financial crisis -- the golf industry suffered along with it.
"We're out of that adjustment period," Stine said in an interview. "Those courses have gone away and, frankly, it's been good for the remaining courses."
Despite growth in avid and new players, the total number of golfers dipped to a low of 23.8 million last year, compared with a peak of 30.6 million in 2003. Still, the golf foundation says the majority of those who left the sport were "fringe" players who weren't very committed, according to its annual report.
"Rounds of golf drive the business," and committed golfers are playing rounds consistently, Byman said.
'Short-Term Turbulence'
But at the retail level, golf looks drastically different than it did during the 2000s. Golfsmith International Holdings Inc. declared bankruptcy in 2016. Nike Inc. decided to part with its golf business, and Adidas sold TaylorMade to a private equity firm earlier this year.
The changes represent "short-term turbulence," Chip Brewer, CEO of Callaway Golf Co., said on a conference call with investors last month. He said the company, known for its Big Bertha clubs, expects the upheaval to benefit the competitors that remain in the industry.
The biggest challenge may be attracting and keeping younger players. The golf industry has been testing ways to engage that demographic by making the game faster, easier and more open.
Expensive and Exclusive
Some aren't convinced that will work. Matt Powell, an analyst at the NPD Group, said these changes won't be enough to sustain the sport in the long term.
"Fundamentally, the values of the game don't align with those of millennials," he said. "It's expensive, time-consuming and exclusive."
Some point to the success of Topgolf as evidence that the sport is adapting and appealing to new players. The concept turns a traditional driving range into a broader entertainment venue by throwing in food, music and other features.
Topgolf isn't for purists, but it's brought millions of players to the game -- on and and off the course -- according to the golf foundation.
"Any activity that prompts a person to hit a real golf ball with a real golf club is an opportunity to hook somebody on the game," said Greg Nathan, the golf foundation's chief business officer.
(
Updates with per-share price in sixth paragraph.
)
Before it's here, it's on the Bloomberg Terminal.
LEARN MORE