Commuters Pack Early Midtown Trains During Amtrak's 'Summer of Hell'
By
Eight weeks of work at Penn Station causes modified schedules

Recent Penn derailments highlight need for equipment upgrades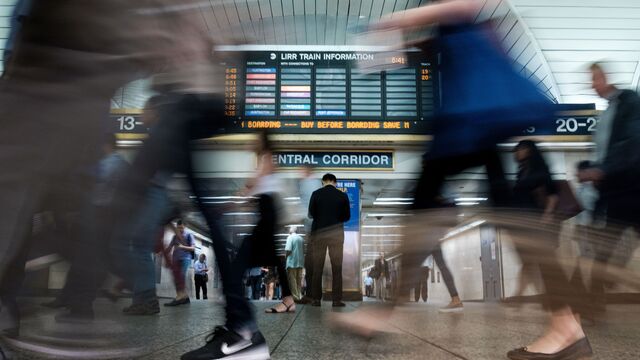 New York City-bound commuters packed New Jersey Transit's early Midtown Direct trains as Amtrak began work replacing aging equipment that routes trains entering Pennsylvania Station, the busiest terminal in North America.
With the exception of four trains that reach Penn by 7 a.m., commuters who have relied on NJ Transit's Morris-Essex line to get to Manhattan in less than an hour are being diverted to Hoboken during the eight weeks of work. Riders have to board ferries, buses or Port Authority of New York and New Jersey trains for the final leg, adding as much as 90 minutes a day to their trips.
"I just have to leave earlier and get home later," said Anzo Alaj, 23, a finance worker at Pfizer Inc., whose usual one-hour commute from Millburn now terminates at Hoboken instead of Penn. "It could be as much as four hours a day, but what can I do?"
Track and signal work at Penn in July and August will curtail operations for Amtrak and its tenants, the Long Island Rail Road and NJ Transit commuter lines. New York Governor Andrew Cuomo has called the upcoming delays and cancellations a "summer of hell" for riders.
The station handles more than 1,300 weekday trains on 21 tracks. Three derailments at the station, including one last week, have highlighted the need for repairs and upgrades.
Riders on the Morris-Essex line are the hardest hit by the modified schedule. As compensation, those customers will pay lower fares and the state will cover their ferry and PATH tickets.
Coffee and Donuts
At rail stations Monday morning, some commuters were unaware that their New Jersey Transit tickets would be cross-honored by PATH. Customer-service staff in yellow vests helped riders navigate the changes.
In South Orange, commuters were greeted with coffee, donuts and music. The last train of the morning to Manhattan, a single-level vehicle, was packed, while the 6:52 a.m., now headed to Hoboken, was emptier than usual.
In Maplewood, as commuters drifted in for the 7:01 a.m., they were met by a TV news van and boxes of donuts and coffee set out at the station entrance. On the platform, a cantaloupe-sized chunk of concrete had freshly fallen out of a wall. A train leaving at 7:15 a.m. for Hoboken was so crowded that the conductor had to turn people away.
At Hoboken, the volume of commuters taking the PATH trains for the last leg wasn't much different from a normal Monday, said David Peter Alan of South Orange, chairman of the Lackawanna Coalition, a commuter group.
"We were concerned that PATH wasn't running enough trains, but so far I'm pleasantly surprised," Alan said. "I expected chaos, but it's well staffed and people are not left stranded by overcrowded trains."
Read More: Plans to Ease Overcrowding at Penn
Across the region, commuters have grown frustrated with crowded, aging and unreliable mass-transit systems.
Earlier this morning on New York's subway system, signal problems led to delays for the northbound 2 and 5 trains and southbound A, C and E trains.
In a survey aimed at illustrating the financial hardship caused by the city's subway system, nearly 75 percent of respondents blamed trains for their late arrival at work during the last three months, while 13 percent said they'd been docked wages.
"This is a crisis," New York City Comptroller Scott Stringer said in a July 9 statement releasing his office's report, in which one out of seven riders gave the subway a failing grade. "Delays are rising, service is declining, and New Yorkers are frustrated like never before."
— With assistance by Alan Goldstein, Kartikay Mehrotra, Patrick McKiernan, Henry Goldman, Elise Young, Stephen Merelman, and Neil Weinberg
Before it's here, it's on the Bloomberg Terminal.
LEARN MORE