business
China's Producer Price Inflation Steadies as Demand Remains Robust
Bloomberg News
PPI hits 5.5% for second month; consumer gauge also steady

Manufacturing price gains picked up from previous month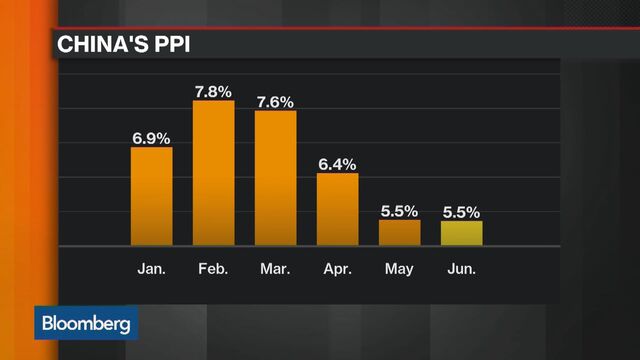 China's producer price gains held up, signaling that demand in the world's second-largest economy is maintaining pace for now, even in the face of regulatory curbs.
Key Points
The producer price index rose 5.5 percent in June from a year earlier, in line with the estimate in a Bloomberg survey as well as the reading in May 
The consumer price index increased 1.5 percent, less than the forecast of 1.6 percent, the statistics bureau said Monday
Big Picture
As inflation steadies on weaker commodity prices, regulators' moves to curb excessive borrowing may erode momentum later this year. Signs of faltering demand for raw materials could become more tangible, as strictures on real estate construction slow output. For global central bankers hoping for an inflation bump that will help them meet targets, moderating price gains in China, the world's largest trading nation, aren't good news.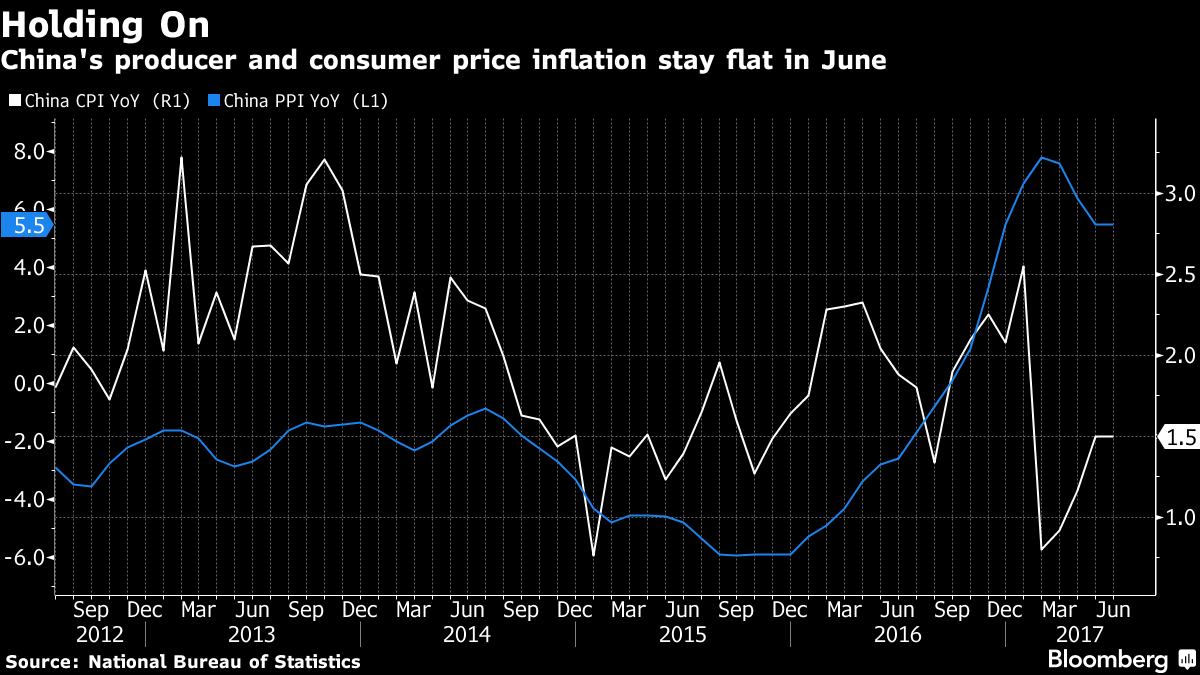 Economist Takeaways
The data shows "yet another sign that inflation remains dormant in the world economy, despite pretty decent growth," according to Rob Subbaraman, chief economist for Asia ex-Japan at Nomura Holdings Inc. in Singapore.
"Producer price inflation has already declined from a rate of 7.8 percent year-on-year in February to 5.5 percent year-on-year by June as global raw materials prices have moderated," said Rajiv Biswas, Asia-Pacific Chief Economist at IHS Markit in Singapore.  "A further slowdown in producer price inflation is likely in coming months."
"It's all about PPI and it's all about how long until PPI is negative year-on-year again," said Michael Every, head of financial markets research at Rabobank Group in Hong Kong. "This month is surely just a holding action in that regard."
"Low inflation allows the central bank to take inflation away from its target list", said Raymond Yeung, greater China chief economist at Australia & New Zealand Banking Group Ltd. in Hong Kong. "It is obvious that 2017 will be another year the actual CPI undershooting the official target of 3 percent."
The Details
Producer prices in mining moderated to 18.3 percent from 22.7 percent in May
Manufacturing price gains picked up to 5.4 percent from 4.6 percent in May
— With assistance by Yinan Zhao, Kevin Hamlin, Enda Curran, and Xiaoqing Pi
Before it's here, it's on the Bloomberg Terminal.
LEARN MORE