Brexit Bulletin: May Gets Real About Her New Reality
By and
Weakened PM poised to reach out for help to opposition parties

Cross-party overtures come after weekend plot reports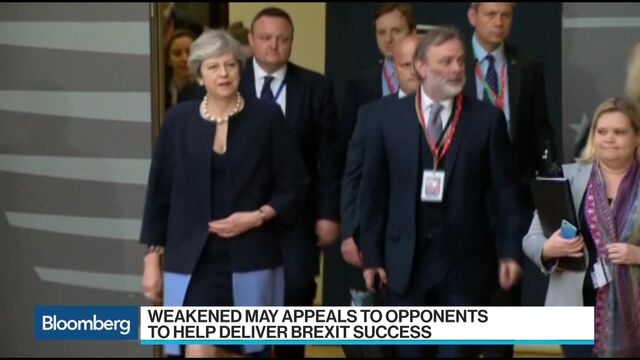 Sign up to receive the Brexit Bulletin in your inbox, and follow @Brexit on Twitter.
A year to the week since she became prime minister, Theresa May is asking opposition lawmakers to help her steer Britain out of the European Union.
As she tries to relaunch her troubled premiership, and as she prepares to publish legislation to shift EU laws on to the British statute, May will on Tuesday suggest rival parties "come forward with your own views and ideas" on delivering Brexit and improving Britain's economy.

She needs all the assistance she can get. Weekend newspapers once again contained reports of Conservative Party colleagues talking of the need to replace her in the wake of last month's botched election.
Opposition parties are also preparing to join forces with rebel Tories to hamper the progress of the government's Repeal Bill, which is due to be published this week. It would reverse the European Communities Act of 1972, which gave effect to EU law in the U.K., and graft EU statutes into British law, giving ministers sweeping powers to adapt legislation without parliamentary scrutiny.
"I led a majority government in the House of Commons," May will say. "The reality I now face as prime minister is rather different. In this new context, it will be even more important to make the case for our policies and our values, and to win the battle of ideas both in Parliament as well as in the country."
Keir Starmer, Brexit spokesman for the opposition Labour Party, told the BBC it is "highly likely" he'll seek to amend the repeal bill to limit the role of the executive in changing laws and increase the power of Parliament.
Read More: What's In the EU Repeal Bill?
Weekend Wrap
A Group of 20 summit ended with May saying she had been "struck by the strong desire to form ambitious new bilateral trade partnerships," calling this a "powerful vote of confidence" in Britain.
U.S. President Donald Trump said at a meeting with May that their two countries are "working on a trade deal, a very, very big deal, a very powerful deal." Trump spoke of striking the deal "very, very quickly." 

Confederation of British Industry President Paul Dreschsler told Sky News that "we don't want to walk into a bear hug."

Business leaders welcomed Brexit talks with government officials at a country estate on Friday. HSBC Chairman Douglas Flint said "it was a highly welcome and constructive engagement." But one-third of businesses surveyed by the British Chambers of Commerce say they want the U.K. to stay in the EU single market and customs union.
Brexit Secretary David Davis asked for an unconditional promise to guarantee the rights of European Union citizens living in the U.K., Bloomberg was told.

It's a sign May's own team is uneasy about her hard-line approach.

Some European Parliament lawmakers wrote in a letter that May's proposal "casts a dark cloud of vagueness and uncertainty over the lives of millions of Europeans."

Chancellor of the Exchequer Philip Hammond called for a Brexit deal that keeps Britain close to the EU market, warning "it would be madness" to reject trade ties.
Former Conservative minister Ed Vaizey co-wrote an article for the Sunday Telegraph newspaper with Labour's Rachel Reeves, saying Britain should remain in Euratom, the bloc's nuclear watchdog.

Liberal Democrat lawmaker Vince Cable, s

eeking to become party leader, said he's starting to think Brexit "may not happen."

Two of Germany's largest industry groups told the Observer that their main concern during the Brexit negotiations is to protect the single market for the remaining EU nations, even if that harms trade with the U.K.
The head of the Bank of England's regulatory watchdog has told insurance chiefs not to expect big regulatory changes after the U.K. leaves the EU, according to the Sunday Times.
Unhappy Mayors
The EU's local governments are scrambling to avert a big budget hit from Brexit even as national capitals from Stockholm to Rome present a stoic front in the accelerating divorce negotiations.
The U.K.'s exit is set to leave a 10 billion-euro gap in the EU budget, meaning other rich countries may have to boost contributions by as much as 16 percent, according to the European Committee of the Regions. This leaves a risk of sharp cuts in EU regional funding, which makes up a third of the bloc's 140 billion-euro annual expenditure and goes to everything from hospitals to waste management projects.
"We need to showcase the importance of the partnerships and the results that can be achieved locally," Markku Markkula, president of the Committee of the Regions, which represents the EU's mayors and myriad other local leaders, said in an interview. "It's a big, big challenge."

And Finally?
The hardest of Brexits would make breakfast more expensive, according to KPMG.
If the U.K. were subjected to World Trade Organization tariffs, the cost of a fry-up — a classic English breakfast usually including ingredients such as eggs, bacon, sausages, baked beans and mushrooms, served with orange juice and tea or coffee — would increase by almost 13 percent, according to KPMG.
Orange juice and olive oil from Spain and Italy would probably increase the most, by 34 percent and 30 percent respectively, the report said.

For more on Brexit follow Bloomberg on Twitter, Facebook and Instagram
Before it's here, it's on the Bloomberg Terminal.
LEARN MORE