business
Bill Koch's Spending Scrutinized in Clash Over Oxbow Sale
By
Crestview Partners demanding sale after seeking to cash out

Unsealed emails suggest Koch used company funds for tuition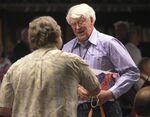 For the last two years, private-equity firm Crestview Partners LP has been trying to detach itself from Oxbow Carbon LLC, a company founded by billionaire William Koch. The corporate divorce has turned ugly, with recently unsealed emails suggesting that Koch mismanaged the company and used it as his "personal ATM."
Delaware Chancery Judge Travis Laster began hearing testimony Monday in an acrimonious lawsuit in Wilmington. Koch maintains that Crestview officials are waging a smear campaign to oust him as chief executive in order to ram through a sale of Oxbow, according to court papers.
The unsealed emails show that some Oxbow directors expressed concerns about Koch, the company's chief executive, using company funds to pay for his Dassault Falcon jet and his children's education at a private school Koch founded in West Palm Beach, Florida.
"Can't believe he billed the company for his kids' tuition," Barry Volpert, one of Crestview's co-founders and an Oxbow board member, wrote in a September 2015 email to Eric Johnson, then Oxbow's chief commercial officer.
"Yes it is ridiculous," Johnson replied, according to court records. "He has used Oxbow as his personal ATM for years."
Climate Of Fear
Johnson, whom Koch fired in 2016, was one of many talented executives ousted by the billionaire founder, Robert Hurst, a Crestview partner who serves on the Oxbow's board, testified Monday. Johnson was tapped earlier this month as CEO and president of Gulf Oil.
Hurst said Koch's intimidating management style created a climate of fear within Oxbow's executive ranks that has made it difficult for the company to attract talent. "There's a pattern here of anyone who stands up to Bill takes a bullet," he said.
If Koch's allies didn't represent a majority of directors on Oxbow's board, the billionaire "would have been relieved of his responsibilities" years ago, Hurst added.
Crestview invested $150 million in Oxbow in 2007, according to testimony in the Delaware case. The investment agreement with Oxbow, one of the world's biggest producers of petroleum coke used in aluminum production, included a so-called "put right" to cash out its position after seven years and push for a sale if the request wasn't honored.
Crestview Exit
Crestview moved to divest its Oxbow holdings in September 2015. Koch rejected the request, prompting the investment firm to demand an exit sale, according to court filings. Crestview officials accuse Koch of dragging his feet on a sale to pay off investors.
Koch and board member David Rosow discussed "obstructing and derailing" a sale process before Crestview's request, Michael McAuliffe, Oxbow's former general counsel, said in unsealed portions of a May deposition. They were concerned Crestview would push to sell the company at a low price, he said.
Moelis & Co., a New York-based investment bank, estimated Oxbow's fair-market value at $2.65 billion for purposes of the sale, according a portion of an unsealed May 31 deposition of James Freney, a company executive.
Koch's lawyers said Crestview had already received $350 million from Oxbow in distributions on its investment, and they argued the private equity fund was pushing to sell the company in a down market.
"You are forcing the sale of the company at the worst possible time, aren't you?" Michael Gardener, a lawyer for company asked Hurst during cross-examination on Monday. The Crestview partner said the sale procedure called for investors to get "fair-market value" as part of the transaction.
Koch, who is expected to testify in the case later this week, is the brother of conservative billionaire political donors David Koch and Charles Koch. He is worth an estimated $3.8 billion, according to data compiled by Bloomberg.
Commodity Downturn
Brad Goldstein, a spokesman for Koch and Oxbow, blamed a downturn in the commodities market and procedural issues stemming from the investment agreement for any sale delays. The downturn has hurt Oxbow's value, raising questions about the viability of a quick sale, he said, and added that Judge Laster had warned that "one minority investor shouldn't be able to dictate to all the other investors."
"Mr. Rosow and the other Oxbow board members have a fiduciary obligation to every shareholder to make certain that the terms of the LLC agreement are followed," Goldstein said.
Jeffrey Taufield, a Crestview spokesman, declined to comment on the unsealed emails or the trial over the fund's sale demand.
The emails show questions about Koch's spending have been raised multiple times since 2015. That year, Oxbow directors probed the billionaire's use of company funds for his jet including maintenance and hangar rental. An internal board probe found the company "was subsidizing his personal use of the plane," Hurst testified Monday.
Koch agreed in 2015 to reimburse Oxbow $5.3 million for jet charges, and agreed to take over the plane's costs, court records show. The billionaire's decision to reimburse the company "was not an acknowledgment that those charges were inappropriate," Goldstein said. "He agreed to do that to take issues about the plane off the table" as he dealt with Crestview's demand for a sale.
School Payments
It's unclear if the company paid tuition for Koch's children at Oxbridge Academy, a private high school. Koch founded the school in 2011 to give his children a better educational experience than he had growing up.
In court papers, Koch said he wasn't reimbursed for any Oxbridge tuition. Goldstein said the billionaire "paid full freight" for four of his children to attend the school, and none of them are presently enrolled there.
Still, in March, Laster ordered him to hand over files about payments he or the company made to the school. Crestview officials accuse Koch of attempting to delay a sale in order to continue the company's support for the school.
The case is In Re Oxbow Carbon LLC Unitholder Litigation, CA12447, Delaware Chancery Court (Wilmington).
(
Adds details on timing of Oxbow sale in 13th paragraph.
)
Before it's here, it's on the Bloomberg Terminal.
LEARN MORE