U.K. Minister Blames Media Gossip as May Faces New Questions
By
'Too much sun, too much warm prosecco lead to gossipy stories'

Justice Secretary David Lidington speaks on BBC television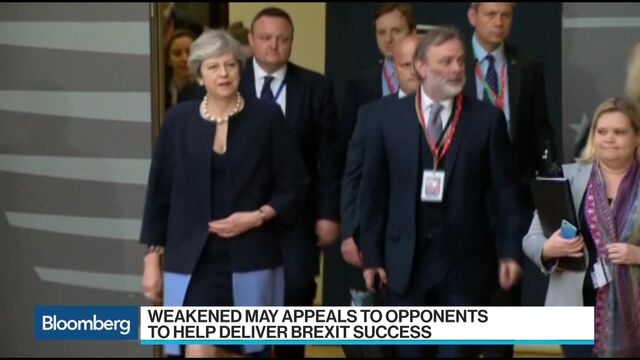 U.K. Justice Secretary David Lidington said the government is focusing on the "real problems" facing Britons as Theresa May's position as prime minister came under fresh scrutiny on Sunday.
Lidington spoke out after the Mail on Sunday newspaper reported that former cabinet minister Andrew Mitchell told a private dinner that May must resign because she has lost her authority in the wake of last month's election result.

"Too much sun, too much warm prosecco lead to gossipy stories in the media," Lidington said in an interview on BBC Television's Andrew Marr Show. Voters want politicians to "go away and deal with the real problems people in this country are facing."
Mitchell told Conservative members of parliament at a June 26 dinner that the party needs a new leader, the Mail said, citing one of them present at the gathering.
Mitchell is a close ally of Brexit Secretary David Davis, but there's no suggestion that Davis is plotting to replace May. Mitchell himself downplayed the Mail's story.
"This is an overheated report of a private dinner conversation," he said in a statement to Bloomberg.
May insists she will still be prime minister next year, despite losing her parliamentary majority. She received a boost on Saturday when U.S. President Donald Trump said that a trade deal with the U.K. will be done "very, very quickly."
'Bear Hug'
But the Confederation of British Industry urged the government to tread cautiously in its dealings with the U.S.
Trade deals are complex "and we don't want to walk into a bear hug," CBI President Paul Drechsler told the Sophy Ridge on Sunday show on Sky.
Lidington said a deal with the U.S. would not make up for leaving the European Union.
"It wouldn't be enough on its own, no," he told the BBC. "But it would be a very good thing to have, as would trade deals with the emerging economies of Asia and Latin America."
Separately, the Observer newspaper reported that German industry groups are warning that Britain cannot rely on German industry to help secure a good Brexit deal, contrary to the assumption among U.K. ministers that Chancellor Angela Merkel will come under pressure to preserve barrier-free access to a key market for companies such as automaker BMW AG.
— With assistance by Tim Ross
Before it's here, it's on the Bloomberg Terminal.
LEARN MORE