N. Korea, Central Bank Fears Put Pressure on Asia Investors
By , , and
Regional index has worst week since March as 2H gets underway

Tech selloff, prospect of faster tightening spook markets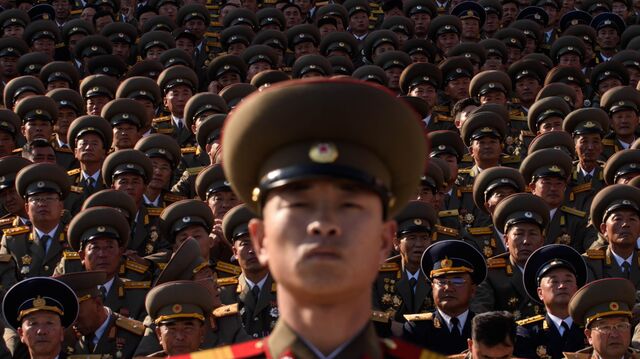 North Korea's latest missile test and renewed concern over faster-than-anticipated tightening by the Federal Reserve have ratcheted up the tension for Asia investors at the start of the second half.
The MSCI AC Asia Pacific Index lost 0.7 percent on Friday and 1.2 percent for the week, its worst performance since the beginning of March. Global investors have been whipsawed by a range of factors that also include a U.S. technology share selloff and talk of the European Central Bank exiting from unconventional stimulus.
North Korea's success in firing an intercontinental ballistic missile was a particular worry.
"Geopolitics has become more important for Asia than we've seen in the last five years," Ross Cameron, Tokyo-based portfolio manager at Australia's Northcape Capital Ltd., said in a phone interview. "Specifically for Asia, what has really been an issue is North Korea. There's no easy solution to the problem that's a headwind for markets that wasn't there in the first half."
The U.S. last week threatened trade ties with China and other countries that continue to do business with North Korea following Pyongyang's ICBM test. "If China doesn't properly enforce economic sanctions on North Korea, that would have a material impact on U.S. China trade," Cameron said. The unlikely diplomatic friendship of President Donald Trump and Chinese President Xi Jinping seemed to hold firm as the pair met Saturday on the sidelines of the Group of 20 meetings in Hamburg.

Fitzgerald Aclan, vice president in the money management unit of Philippines's BDO Unibank Inc., said profit-taking has been triggered in part by geopolitical concerns over North Korea's growing nuclear ambitions.
Read more: Here Are the Options for Dealing With North Korea: QuickTake Q&A
South Korea's benchmark Kospi index fell 0.5 percent for the week. The gauge fell 0.3 percent on Friday. Cosmetics firms -- a driving force for the South Korea brand in the region -- continued to suffer. Meanwhile, the number of Chinese tourists declined 67 percent in April.
Receding interest in U.S. technology shares following a sharp rally is another reason for bearishness in Asia, as investors opt to cut back on their regional counterparts. The MSCI Asia gauge of technology shares fell 1.6 percent last week, one of the biggest decliners among the region's industry groups.
Tech Stocks
"Technology companies will continue their correction after valuations reached unprecedented levels," Narongsak Plodmechai, chief investment officer at SCB Asset Management Co., which manages about $35 billion in assets, said in an interview. He expects further correction in the sector to "a reasonable level."
Nevertheless, Narongsak and other fund managers are optimistic about the information technology sector in Asia over the longer term, as valuations remain cheap compared to those of U.S. companies. The sector's presence in the equities market is expected to grow as technology evolves and impacts industries ranging from manufacturing to finance.
"The investment theme going forward will be picking the winners and losers," Narongsak added. "The winners will be those who can survive as the world transforms into a digital economy."
In the near term, investors in the broader Asia market look poised to gauge their bets based on how the U.S. equities perform, particularly with another Fed rate hike expected later this year. Monetary tightening, a global trend with the exception of Japan, has spooked some investors. In Europe, Bundesbank President Jens Weidmann said Thursday: "The continued economic recovery is opening the perspective of a monetary-policy normalization." Meanwhile, recent sets of economic data have sent mixed signals.

"Central banks have been very hawkish even though economic numbers are actually slowing," said Hao Hong, chief strategist at Bocom in Hong Kong. "There isn't a very strong case for substantial tightening and shrinkage of balance sheets.''
Japan's benchmark Topix Index lost 0.3 percent last week, while China's Shanghai Composite Index rose 0.8 percent. Hong Kong's Hang Seng Index, the region's biggest decliner last week with a 1.6 percent fall, was up 0.8 percent at 10:25 a.m. local time Monday. Internet giant Tencent Holdings Ltd., which has a 10.1 percent weighting on the gauge, spearheaded last week's retreat after China's government-owned People's Daily newspaper blasted one of the company's games, saying it harmed children in the pursuit of profit. Equity gauges in Australia and Taiwan were down 0.3 percent and 0.9 percent, respectively.
Technology heavyweights across the region contributed most to the week's losses on the broader market amid a selloff in the sector. Tencent sank 3.7 percent, Japan's Nintendo Co. slumped 6.7 percent, while Taiwan Semiconductor Manufacturing Co. slid 1.2 percent.
— With assistance by Ian C Sayson, En Han Choong, Heejin Kim, Yuko Takeo, and Fox Hu
Quotes from this Article
Before it's here, it's on the Bloomberg Terminal.
LEARN MORE